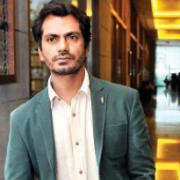 Actor Nawazuddin Siddiqui was in town to spread awareness about breast cancer on Thursday. After Hrs catches up with the actor about his next film Kick with Salman Khan, which releases today, and his idea of a dream role.
On his roles so far
Nawazuddin plays a grey, very different character in Kick. "I play a dark character, who is a mix of positive, negative, humour and action. It is quite unlike my other roles till date." We asked him about his dream role and he says, "I do not have any dream role. I think that any role done with honesty is a dream role. " But at the same time, the actor hopes that the roles that he plays should become dream roles for others. He picks a character he loves and believes that as long as the director knows what he is doing, even a bad script can be made into a wonderful film.
Conventional vs non-conventional cinema
All the films fall under the same roof and it is the public who differentiates and has added tags to the cinemas is what Nawazuddin thinks. "For me, a film — whatever the script or the topic — is a film and I have to play a role in it. How does it matter then what kind of a cinema it is? The only differentiation is that of a good or bad film and of a good or bad actor."
Working with the Khans
Working with the two Khans of Bollywood — Aamir Khan in Taalash and Salman Khan in Kick, was very different experience. "While Aamir likes to practise and rehearse before the actual shoot, Salman is a little relaxed about things. While shooting with both, I just went with the flow."
Shooting in Pune
The majority of the times when Nawazuddin has been to Pune is to shoot for films, especially while shooting for diploma films for FTII. Ask him what he likes about the city and he says, "The general atmosphere is very nice and calming. Pune is a fun place to be in".