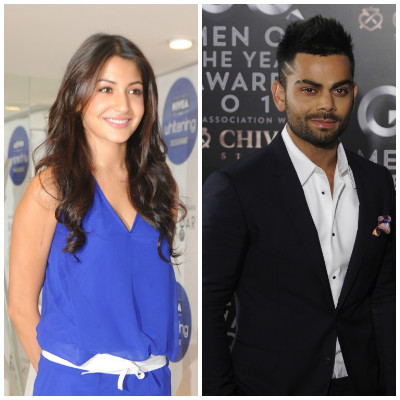 They maybe denying their relationship to the world, but the closeness between the two is hard to deny. Since their CLEAR shampoo add, they have been spot together by fans every now and then.
February 2014: Anushka Sharma was see walking hand in hand with cricketer Virat Kohli in Auckland where India was playing test matches then.
March 2014: At the shooting of Anurag Kashyap's Bombay Velet with Ranbir Kapoor, Anushka was spotted with Virat Kohli in Sri Lanka who made a special trip to meet her.
April 2014: After wrapping up the T-20 World cup, Virat Kohli was spotted at Jodhpur airport to meet his lady love who was shooting in the city for her production NH10.
Recently India's most stylist cricketer, Virat Kohli took some time off from his busy IPL scedule to be with his girlfriend on her birthday,1st May. The 26 year old actress was shooting in Jodhpur for NM10.
On Koffee with Karan, Anushka denied her relationship with the cricketer and said he was just a friend whom she called and texted. Karan Johar went on record and said that they make 'lovely pair'.
By the end of the show Anushka was bombarded with questions about her relation with Virat to which she decided to remain mum.