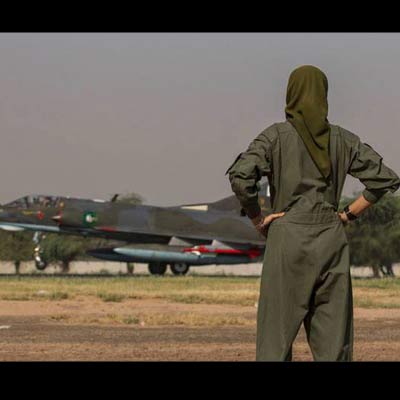 An olive green hijab peeping out of her helmet and a pretty smile are not the only factors that describe Ayesha Farooq, the only female Pakistani air force fighter pilot.
Farooq who hails from the Punjab province of Pakistan is the only war-ready female fighter pilot of her batch to get qualified for combat. She managed to convince her reluctant mother who did not approve of her joining the defence seven years ago and today she is one of those few brave and determined women defending her country which has slowly started accepting women in their air force units.
The 26 year-old who bombed Taliban hideouts in North Waziristan for the mission Zarb-e-Azb on Wednesday is the first to be qualified before five of her female batchmates.
Talking about if she felt lonely in the male domain of Pakistani armed forces Farooq told Reuters, "I don't feel any different. We do the same activities, the same precision bombing".
"...because of terrorism and our geographical location it's very important that we stay on our toes", she said referring to the sharp rise in sectarian violence and Taliban militancy.
"In our society, most girls don't think such things such as flying an aircraft", Farooq said. Family pressure and male dominance in the armed forces is the main reason that keeps women from signing up.
Watch farooq's television interview below