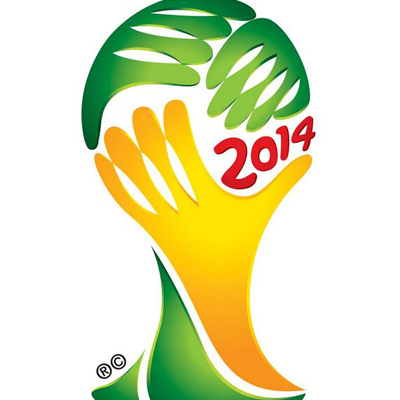 The FIFA World Cup 2014 will commence on June 12, and while excitement among football fans is already running high, the official logo of the World Cup has created a stir.
It is being mocked on social media for 'looking like a 'facepalm'. While this was the original charge against it, people have come up with funny descriptions and inferences from this logo.
The logo is titled 'inspiration' and It is based around a design of three victorious hands together raising the World Cup trophy. The yellow and green colouring implies Brazil warmly welcoming the world for the event.
However, the logo has attracted quite a bit of ridicule. Twitter is abuzz with activity all of a sudden, and most Tweeple don't have anything positive to say about the logo. When Twitter user hollybrocks tweeted the logo calling it a 'facepalm' logo, there were some funny reactions:
MajorBisho said:
@hollybrocks getting weird conflakes logo vibes too

— MajorBisho (@majorbisho) April 23, 2014
Stuart Bramley took a dig at the England football team:
@hollybrocks That's how all England fans will spend the majority of the tournament so it's probably quite fitting!

— Stuart Bramley (@stuafcb) April 23, 2014
Trimble KazzaK seemed to be defending the logo, obliquely:
@hollybrocks @wowcynwise still better then the London Olympics mascot

— Trimble KazzaK (@trimbleirl) April 23, 2014
Kellogg's Cornflakes were really in demand:
@hollybrocks @johnrisby I don't know about that but it's making me crave Kellogg's Cornflakes.

— Oonagh (@Okeating) April 23, 2014
The 2010 and 2006 FIFA World Cup logos made much more sense. While the 2010 logo had a player kicking the football with vigour, the 2006 logo looked like three smiling faces.