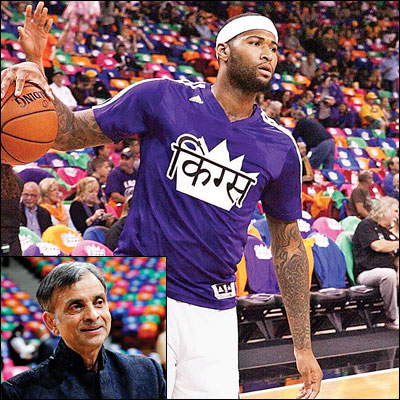 He spent his childhood playing cricket here in Juhu beach. But soon after, the Mumbaikar set foot on American soil with only $50 in his pocket. Two decades later, he became the first Indian to own a National Basketball Association (NBA) franchise (Golden State Warriors in 2010) and three years later, he paid $347 million for a 65 per cent stake in Sacramento Kings. At present, Vivek Ranadive is trying to bridge the gap between NBA and India by introducing Bollywood and Indian culture amongst the American hoopsters.
The Kings recently hosted a Bollywood themed tie against Los Angeles Lakers. The hosts won both the match and the hearts of those who came to cheer. The game celebrated Indian music and cinema with the players wearing jerseys with 'Kings' written in Hindi. There were traditional dancers and singers to entertain the crowd too.
"The Kings believe in enhancing the fan experience by expanding the team's brand in India and China. It was a proud moment as an Indian-American owner to share the Indian culture with Kings. It was basically an invitation to the Indian community worldwide," said Ranadive, who dunked his poverty down the hoop after finding TIBCO, a multi-billion dollar real time computing company.
Ranadive's tryst with basketball began when he started coaching his daughter's middle-school team. "Coaching made me fall in love with the sport and I realised that the game serves as a positive bridge in communities irrespective of your background," the 56-year-old added.
The Kings have been dribbling down the Indian path after Ranadive's presence at the helm of things. "This season, the Kings televised over 20 live games in India and launched a website in Hindi, sent the Sacramento Kings dancers to Mumbai and signed the team's first India-based sponsor," said Ranadive, who is also hopeful of sending a delegation with NBA commissioner Adam Silver to India in order to decide on exhibition games within the next two years.
Asked about his decision to buy an NBA team, he said, "It was a decision fuelled by passion. Kings have a passionate fan base, a technologically-savvy community and a mayor (Kevin Johnson) who intends to make Sacramento a first-class city. I thought they deserved a basketball team."
However, Ranadive no longer owns a stake in the Warriors and is 100 percent focused in developing Kings.
On Indians in the NBA, he said: "There are actually some Indian players in the National Collegiate Athletic Association that NBA scouts have already started looking at. And I fully expect to see an Indian player join the NBA within the next five years."