...at a workshop organised by Marathi Vidynan Parishad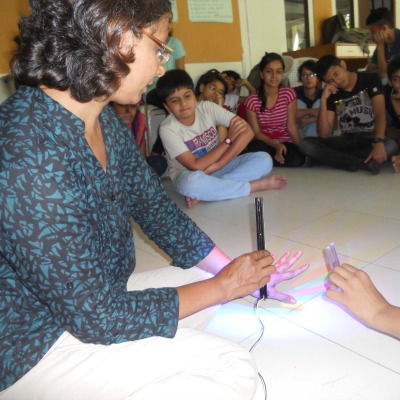 Pune: It was a 'learn with fun' time for students of Class X who made a hovercraft and a torch and other such things in a two-day workshop on experiential learning organised by Marathi Vidnyan Parishad at Lokayat office near Nal Stop square.
Students were taught simple science experiments which otherwise look difficult.
Speaking to dna, facilitator for the workshop Anjali Chipalkatti said that that the workshop was aimed at helping students to increase their capability to assimilate scientific concepts through experiential learning and inquiry. The same two-day workshop will be held on May 24 and 25 so that more students will get benefitted.
"Well-designed demonstrations, hands-on experiments along with inquiry-based-discussions develop visual memories. It helps students to retain the knowledge through a stress-free organic process," said Chipalkatti. She further added that such experiential learning with spirit of inquiry gives an opportunity to students to start building a strong foundation for science.
Executive director of the Marathi Vidnyan Parishad, Pune branch, Vinay R R said Science is made marks oriented which makes it difficult for students to understand since they don't get an opportunity to experiment it themselves.