cause for concern | Because of high chlorine content in pool water, users are experiencing more skin and hair problems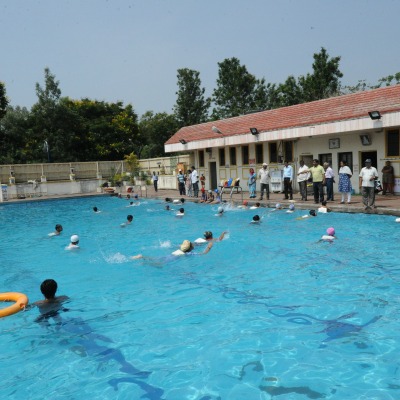 Pune: Thinking of taking a dip in the pool to cool off this summer heat? Think twice before you do so as dermatologists, who are seeing an average of three to four cases per week of people contracting skin ailments due to excessive chlorination and unclean pool waters, have a word of caution for you.
Dermatologists cautioned that swimming pool water has high chlorine content that causes skin and hair problems. Apart from that, doctors say that water in public pools is often contaminated and is not replaced very often, especially during summers due to the high usage.
Erandwane-based dermatologist Dr Ajay Deshpande said he is regularly getting cases since April. "There are high chances of getting infected by skin to skin contact in public pools besides skin problems due to chlorinated water. The public pools often lack in hygiene and sanitation which also leads to fungal infections and bad cases of acne breakouts," he said.
Dermatologist Dr Dhanashree Bhide said that since two months, patients are coming to her complaining irritation of skin and eyes, dryness, itching of skin and other skin infections due to excessive chlorine mixed in the swimming pool water. "To avoid these infections, one should apply a good quality waterproof moisturiser or sunscreen before and after swimming. This avoids the absorption of chlorine in the skin," she suggested.
As public pools are outdoors and the whole body gets exposed to sun while swimming, sunburn is very commonly observed in people who swim regularly. "The water reflects UV- A rays, which result in skin tanning and sunburn not only to people inside the pool but also affects the ones around the pool," says Dr Dilip Shah, a Camp-based dermatologist. He further said,"Sunburn may be a little redness, itching and in severe cases skin exfoliation."
To prevent tanning and sunburn, dermatologist Dr Archana Avhad advised, "There are regular cases of skin tan due to swimming in summers. The only solution to prevent tanning and sun burn is using a sunscreen of minimum 30 SPF and avoiding swimming at peak afternoon hours." According to her, if there are fungal infections, rashes and boils which stay for more than a day, one must immediately go to a doctor.
Precautions before using public swimming pools:
- Check for the hygiene and sanitation of the pool
- Check for the regularity of water filtration of the pool
- Use a sunscreen, preferably which is water and sweat resistance and has sun protection of minimum 30 SPF before getting into the pool
- Educate kids not to urinate or spit in the pool
- After a swim, make sure you take a shower with fresh water
- Use a good shampoo and conditioner for the hair and scalp
- Dry yourself and apply moisturiser all over your body