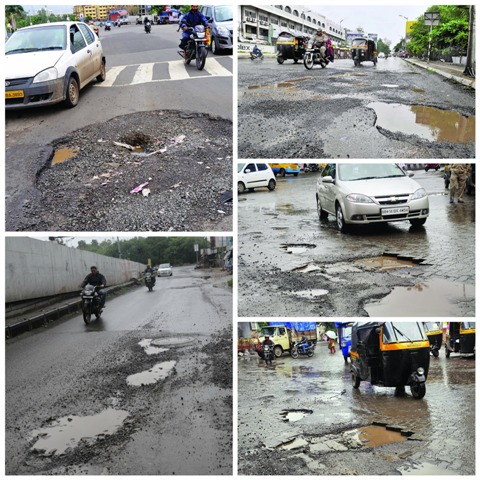 PUNE: Forget small lanes and by-lanes but even the road used for VVIP movement is not in a good condition. While the common people continue to struggle in finding way through pothole ridden roads, the traffic police department has shown concern for the poor quality of VVIP road connecting Airport with Rajbhavan and it has written a letter to the Pune Municipal Corporation to repair the road as early as possible.
The letter written by the traffic police to the Pune Municipal commissioner has stated that at least one VIP visits Pune city every day and they use VVIP road to travel from Pune Airport to Rajbhavan in Aundh area. On this VVIP road, the road in Range hills area is filled with potholes and it will not only create inconvenience to the vehicle movement, but it will also unsafe from security point of view of VIPs.
The traffic officers said, " The heavy rainfall in the city has created potholes in various roads of the city and even the VVIP road is not spared. There is an urgent need for the repair of the VVIP road and therefore a letter has been sent to the PMC administration to repair the roads and especially the VVIP road. We have requested them to inspect the entire VVIP road and along with repairing the road, we have also asked them to remove all the debris which are lying on the VVIP road."