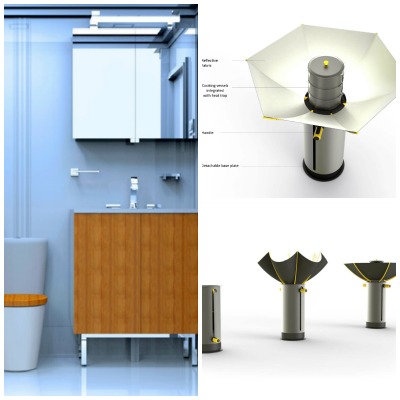 Pune: Over a 164 graduating students from MIT Institute of Design (MITID) showed off unique designs to solve issues we face in our day-to-day lives at their Grad Show, held recently at MCCIA Trade Towers, in the city.
Students from the postgraduate and undergraduate courses displayed their creative talent, via concepts related to our daily routine, civic issues and even industrial designs. They were given six months to work on these live projects.
Submitted in as designs, prototypes and in some cases actual products, the projects included product designs of an ergonomic solar cooker, bio-toilets, doodwalla cycle, waterless egg maker, digital rickshaw meter, helmet for women pillion rider, social innovation project with Pune Blind Men's Association, emergency lamp, and third-generation tablets.
The MITID film and video design department students also displayed their creativity at the Grad Show with nine short films, which included - An Artists Talk, The Transition, The Fish Pendant, Cousins, PS, Mermaid in Aquarium, Introducing Homeland, Pratibimb and Ankahi.
Students from the animation department also screened their animation films. Apart from the exhibition the Grad Show also included discussions on product design, transportation design, retail and exhibition design, interior space and furniture design.
Bhargavi Joglekar won the best student award and her undergraduate project design of a solar cooker was also hugely appreciated. The ergonomic, portable, efficient and aesthetically appealing solar cooker is a seasonal product, said Bhargavi. "It has a compact design and is easy to store when not in use.The transparent heat trap integrated with cooking vessels protects the black coating on the vessels from fading over the time due to inappropriate washing," she said.
Postgraduate product design students Dheeraj Chugh and Varun Chand, did a self-initiated project working in the area of social innovation and developed a design solution for users with special needs. They designed a simple and easy-to-implement physical recreational game for the visually-impaired. "The response that we got was positive and motivating, yet there is still some scope of improvement in terms of competitiveness and accessibility, which needed to be worked upon," said Dheeraj.
Postgraduate graphic design student, Nikita Sawant, came up with a visual language for a home store and design studio, for putting up print collaterals and promotional material. This project had also won the CAG Judges special award at Mumbai this year. Interior space and furniture design, postgraduate student, Ranjit Sarve, worked on a live project designing prefabricated and modular bathroom for domestic functional use in homes. He said that this bathroom can be assembled on site quickly, and without disturbing the surrounding ecology.