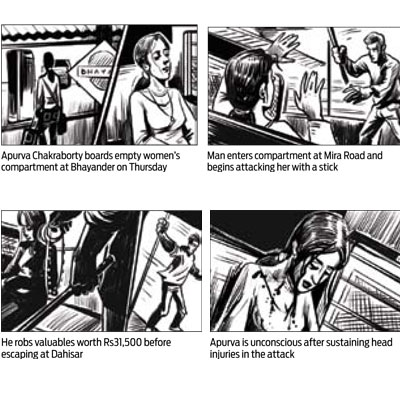 In yet another incident which raises concerns about women's safety on trains, a 25-year old manager with a chemical firm was assaulted and robbed off her valuables inside a local between Mira Road and Bhayender stations on Thursday morning. Apurva Chakraborty, who had to go to Nashik for official work, boarded an empty women's compartment of a Western Railway local at Bhayender station before dawn. There was no policeman in the compartment, as is mandatory.
When the train halted at Mira Road station around 4.30am, a man believed to be in his late 30s boarded the compartment and repeatedly hit Apurva on the head with a stick. With blood oozing from her head, the Bhayender resident began screaming for help, but there was no railway official on the platform to offer help. "Aapko jo chaahiye woh le lo, par mujhe mat maro," she told the man. As the train began moving, the assailant pulled out her bangles, snatched her chain and escaped from platform number 2 at Dahisar station in the early morning darkness.
"The woman had her back towards the door and hence, did not realise when the man boarded the train at Mira Road station. He hit her with a stick and robbed her," said Shivaji Bagal, senior inspector of the Borivli railway police. A Vasai government railway police (GRP) official said: "The woman was alone in the compartment when she was robbed off valuables worth Rs31,500. She was slapped several times and even fell unconscious."
After the train reached Dahisar, on-duty police officials took Apurva to Karuna Hospital for treatment. She received five stitches for the head injuries she sustained. A resident of Krishna Park Housing Society in Rahul Park at Bhayender (East), Apurva lodged a complaint with the Borivli GRP under section 349 (voluntarily causing hurt in committing robbery) of the Indian Penal Code. The case has been transferred to Vasai.
The absence of policemen in women's compartments and railway officials at stations raises several questions pertaining to the safety of women travelling on trains.