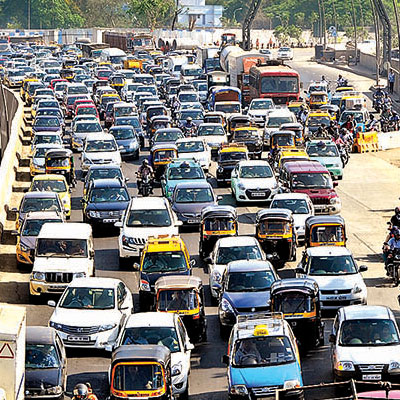 There may be some respite in store for motorists travelling on the Western Express Highway (WEH) during rush hours as the Mumbai Metropolitan Region Development Authority intends to open a lane at Vile Parle (at the exit of Sahar Elevated Road) sometime later this month.
Currently, the five-lane WEH narrows down to just three lanes at the exit of Sahar Elevated Road because two lanes of the highway have been lost to the new road.
During peak hours, the south-bound lanes of the highway witness bumper-to-bumper traffic from Vile Parle right up to Jogeshwari. This is a 3.5 kilometre stretch.
"Although it is a slow-moving traffic, it kills the purpose of traffic being signal-free. On one hand the officials have worked towards constructing a flyover to overcome traffic snarls, while on the other, at the road intersections here they have created problems for the motorists," said Shashi Kohli, a resident of Malad.
"In a fortnight's time, our repair work at the exit of Sahar Elevated Road will be complete and this will provide relief to motorists by easing out traffic jams as one more lane will be available for vehicles," said an official from MMRDA.
However, some other work has just begun parallel to the eastern side of the domestic airport flyover. Pipes have been kept to lay underneath the highway for sewage purpose and this work is likely to get completed before monsoon.
For the last few months, commuting on the WEH has been riddled with traffic issues right at different locations like Malad junction flyover, Dindoshi flyover, exit of Sahar Elevated Road and finally due to construction of Kherwadi flyover.