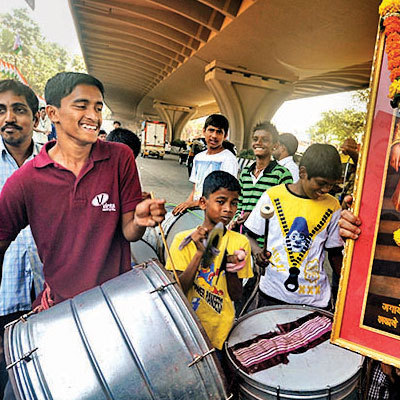 On Wednesday, students enjoyed a non-instructional day as a circular had asked schools to cancel their holiday for Shivaji Jayanti and ask children to remain present.
Schools were given a "rude shock" on Monday when they had received the circular from the school education department, asking them to call students to celebrate Shivaji Jayanti in school. The circular demanded that schools organise lectures on heroic tales of Shivaji by experts, prabhat pheri and elocution competitions for students on different forts of Shivaji, among others.
February 19 has been a holiday every year and was supposed to be this year too. "We cancelled the holiday after receiving the circular but had very little time to prepare for the celebration. So we just read out a speech during the morning assembly and the choir sang two songs. The primary section, however, remained shut," said Anjana Prakash, principal, Hansraj Morarji Public School, Andheri.
Balmohan Vidyamandir's English medium continued to enjoy the holiday, while the Marathi medium called its students to school for a celebration. "We fulfilled all the requirements of the prabhat pheri and other celebration. However, we could not involve students in activities at such short notice," said Vilas Parab, principal of the Marathi medium.
At Holy Family School, the students were called for a non-instructional day of just two hours. "We organised a small cultural event and let the students go because everyone must have planned for the holiday," said Fr Francis Swamy, principal.
Several schools in city had to do without bus services. "We plan the maintenance of the vehicles as per the school's holiday calendar. So we had already sent our buses to the garage. This was very wrong of the education department to change its mind at the last moment. How does it expect us to function?" said Anil Garg, president of the School Bus Owners Association.
Most ICSE and CBSE schools, however, ignored the circular. For instance, Gundecha Education Academy, Ryan International schools and DAV public school remained shut.