ActionAid India recently conducted a headcount of the children who live on the streets of Mumbai. What their enumerators observed on field was a heart breaking accounts of the 37059 children who work and live on the streets of Mumbai
"Today, during the survey, I realised and felt bad about the fact that in a city like Mumbai so many children are begging," noted a researcher at ActionAid India while collecting data for their census study on city's children roughing it out on the streets.
Nothing could prepare them for what they found during the course of the study. Between them they surveyed the 36154 children that live on Mumbai street, along with the 905 children on the railway platforms of the city.
But the numbers can't even begin to encompass the exasperating tales these survey takers witnessed. "Found a girl 12 years old who was married and already had a child. Child marriage is prevalent even in Mumbai!" wrote one of them.
"There were very few girls that we came across. We did not see many girls except when they were with their families. Some children said they had been brought from their village to study in the city, but they were made to work here. Today, I got the feeling that so many children live alone without any one to take care of them," observed another one.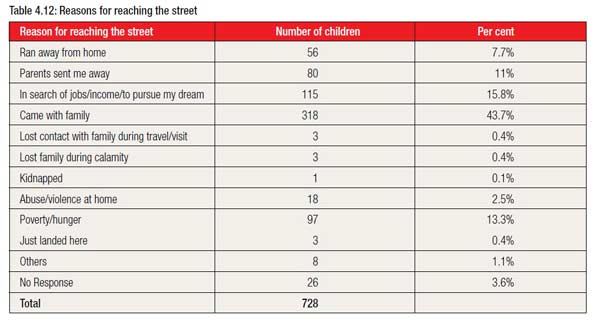 Adversity manifold
The sample survey reported that around 25% of the children skipped at least one meal a day due to the lack of money. "Many families living on the streets have small children who are not getting enough food, even the clothes to cover themselves is not enough, they have no education and, from as young as five years, they start working at tea stalls, or as rag pickers to earn something to take care of themselves," shared one of survey-team members.
Dependence on others for food, illness and injury (probably indicating inability to earn or inability to eat), lifestyle habits and other unspecified reasons were also reported as causes for skipping meals.
About 15% children looked like they were in a 'visible' form of addiction, during the census. After witnessing the state of the children, many researchers were forced to mull over their conditions, "How people with very small children survive on the streets is a question. I kept thinking what will happen to them in the rainy season or during winter."
"Small children walk around here and there looking for food. Their clothes are dirty. The food they get is not enough so they roam around begging for food. Also, thinking of what kind of nutrition these children get in a life like this made me feel really bad," they added.
Working for a living
Child labour on Mumbai streets is an open dirty secret. The study enumerated what those from the city already know. It was that about 11.50% of children were involved in selling flowers, newspapers, fruits and other items on the roads, while 9% who were working in small eateries, and 7.9% were found begging. About 2.5% were employed in construction work and about 5.5% were rag pickers.
"Children worked as rag pickers and loaders in and around Mahim station," noted one of the researchers. "One child asked that if he gave up rag picking, would we give him a job."
Working children often even lie about their age or even deny that they are working. "There is a dumping ground in this ward and small children work here as rag pickers along with their parents. None of these children have been to school. I felt bad seeing small children work," said one of the researchers.
Child abuse
The sample survey also revealed a much darker reality, another shameful secret the city is too embarrassed to admit. A large number of street children, about 44%, were reported witnessing or experiencing verbal, physical and/or sexual abuse. The children's narratives indicate that violence exists on the streets, and highlights the vulnerabilities of those living there. "Living on the streets has the most negative impact on children," a researcher concluded the obvious.
About 13% children reported that they had seen some child undergoing some form of abuse and 67.3% children felt threatened on the streets.

While the report findings further emphasise an already existing need to create safe shelters for street children, but the personal stories and experiences of the researchers brought to life the tragedy of affairs that prevails on the streets of Mumbai.