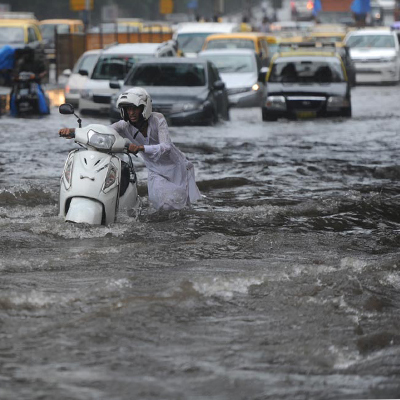 Heavy rainfall across Mumbai city and suburban area since Wednesday morning has hit the normal life in the city on Thursday. In a tragic incident a five year old kid was killed in a landslide in Chembur. Ganesh Burade, a 5-year old kid was injured in a landslide that took place in Ashok Nagar near Vashi Naka in Chembur. He was taken to the hospital in nearby area, but was declared dead.
Due to heavy rains and water logging at Kurla, Ghatkopar, Vikhroli, Bhandup on the central line and Govandi, Chunabhatti on harbour line, Central Railway, suburban services on slow line and Harbour line were disrupted.
Many arterial roads witnessed water logging with commuters facing a tough time in areas like Colaba, King's Circle, Kurla, Ghatkopar, Vikhroli, Link Road, Mahim Causeway, Hindmata, Dadar TT, LBT, and Parel Road.
Also, traffic jams have been reported on the Andheri MIDC road, Eastern and Western expressway.
Local train services across the city and the suburbs have been severely hit. Services on Harbour line have been hit and the trains are running almost an hour late. While the Central line trains are running around 30-45 minutes late due to water logging at various stations. Commuters traveling via Western Line are also facing difficulty with trains traveling nearly 20-25 minutes behind scheduled time.
To make matter worse, the Metrological department has predicted heavy rainfall in the city over the next 48 hours for the city.
Due to heavy rains, life in the adjacent Thane district has also come to an halt. Along with Ulhas river, Shhahi, Kaalu, Vaitarba rivers have crossed the danger level and water have entered in various residential areas of Badlapur, Kalyan and Titwala. Flood like situation has occurred in various villages of Thane district, while vehicles on Nashik highway are running slow due to the landslide on Kasara-Igatputi road.
Some reactions in the social media about heavy rain in Mumbai..
@TrafflineMUM today's show at palace, byculla is postponed. pic.twitter.com/hihXrePzWy

— Darshan Engineer (@EngineerDarshan) July 31, 2014
NIGHTMARE: CR down lines, both Slow and Fast, delayed by 45+ minutes at Ghatkopar. Ghatkopar Stn and trains doubly packed! @TrafflineMUM

— Anish Bhalerao (@anishbhalerao) July 31, 2014