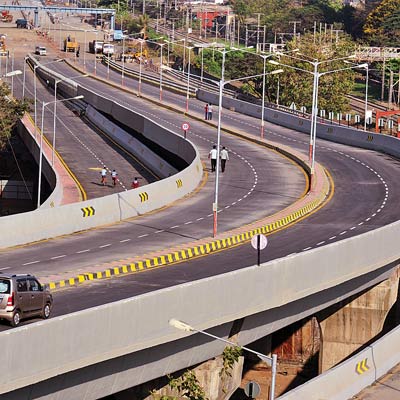 Eager motorists took to the just-completed Santa Cruz-Chembur Link Road (SCLR) on Tuesday, even though the East-West connector has not been officially opened by the Mumbai Metropolitan Region Development Authority (MMRDA).
Many of them were bikers and there were a large number of private cars too, but no taxis, autos or other heavy vehicles were seen on the road.
"The locals have been asking the authorities to open the link road as soon as possible, but it has been completed only now," said Anil Galgali, a Right to Information activist.
As the day progressed, the authorities started putting barricades to stop vehicles from using the motorway.
Through the day, workers were busy marking the lanes on the 6.5km, double-decker elevated road. Some were busy giving final touches at the Amar Mahal junction in Chembur.
The approach road to the landing at Nehru Nagar is not completed and road medians are being placed at the Chembur end.
Asked whether the road had been opened to the public, metropolitan commissioner UPS Madan said, "It was unauthorised entry by some motorists on Tuesday. We will open the SCLR for people by the weekend. A final date of the opening, which will be without any fanfare, will be announced in a couple of days."
The state government is keen to throw open the city's newest arterial road, which has been repeatedly delayed, before April 24, the voting day in Mumbai for the Lok Sabha election.
The double-decker flyover will cut travel time by about 30 minutes to just 15-20 minutes. The top deck will take traffic between Amar Mahal junction on the Eastern Express Highway and Vakola junction on the Western Express Highway. The lower deck connects Lokmanya Tilak Terminus and Nehru Nagar to Kalina.