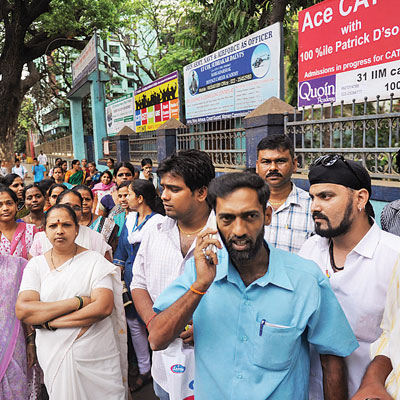 Parents of children studying in Shishuvihar Mandal School, Dadar, are doing their bit to convince the school management to reconsider its decision to reduce the intake of students in the Marathi medium of the school.
The 76-year-old school, the parents feel, might shut down if the decision is implemented. The parents have claimed that there are several students who want to take admission in the school.
The management has asked the school staff not to admit anymore students to all Stds between II and X and to allow only 45 students in Std I. Parents have lodged a complaint with the education department and also assembled at the school premises on Monday.
"This year, even after receiving 100 applications, only 45 were given admission. My daughters study in the school and I wanted to send my younger one here too but she did not get admission," said Preeti Lad, a Wadala resident. The school is preferred by parents because it is less expensive.
The school staff too has written to the management to review its decision. "Most students have siblings who the parents want to enrol with us. I wrote to the management in November 2013. However, the school committee has refused to change its decision," said Megha Surve, the school's headmistress.
The school has, however, denied any plans to shut down the Marathi medium. "The number of students aspiring to seek admission has reduced in the past few years. But we will not shut school, even if there is just one student in class," said Vinayak Kade, secretary of the school.
The mandal authorities said the decision was made to make classrooms less crowded. "We have only 29 classrooms and have recently also started the English medium section. So, we want to keep only one division from Stds I to VI," said Santosh Vaidya, in-charge of convener committee of the mandal.