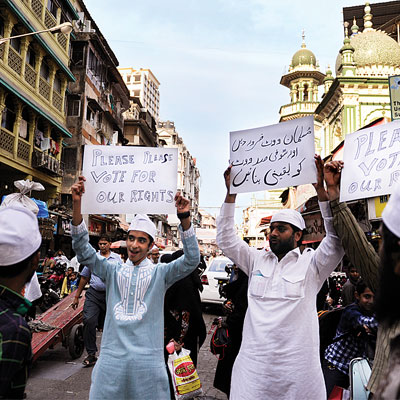 Even as mainstream parties create scare about BJP's prime ministerial candidate Narendra Modi among Muslims, members of the BJP's minority morcha are running a silent campaign to convince Muslims to vote for the party.
The members are going to minority-dominated areas, especially religious places like mosques and dargahs in their traditional attire, and communicate with religious leaders like maulanas and members of the community.
"Most of them know from the media that there is a Modi wave in the country and that a Modi government is likely to come to power. But we tell them, even if Modi government comes to power, we will not be going to Modi to resolve our local problems. We have to go to our local MP and we should be looking at that aspect and not worry about Modi," said a member of the minority morcha.
"For example in Mumbai South-Central constituency, if we go to a slum like Dharavi, we see lack of development in this area. Then we tell them how we have to think as to which MP can get us maximum funds for developmental work," said a minority morcha leader.
"Whenever, members of our community express apprehensions over 2002 riots, we point to the riots which took place in Assam, where 5,000 people died. It happened under a Congress government. Similarly, we point to the Muzzafarnagar riots in UP and also the fate of Muslims in relief camps. Muslims are staying in relief camps and cannot go home when there is a so called secular Samajwadi Party (SP) government," said BJP general secretary Mohammed Sikandar Shaikh. The members of the minority morcha are campaigning in all the six parliamentary constituencies.
"There is a perceptible change and even maulanas tell us that your party is going to form the government. Earlier, their attitude was as to why do you work for such a party. It is no longer the same now," Shaikh added.
Besides, Muslims also want change and they are equally disturbed by things like price rise.