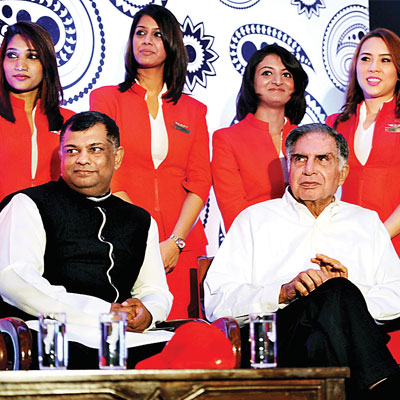 AirAsia India said on Thursday it expects to breakeven in December, later than initially planned, after a delay in plane deliveries and a plan to boost investment in the fleet.
The budget carrier, which launched its inaugural flight in India last month, had said it would break even around October.
Breaking even would make AirAsia India stand out from all but one of India's big airlines, which have seen margins squeezed due to high costs and low fares. Most carriers lose cash at a rapid rate in a highly competitive market.
"We expected to have five planes before October; we are not going to get five planes," AirAsia India chief executive officer Mittu Chandilya said. He did not elaborate on the reason for the delay.
Speaking to reporters after formally launching its India operations on Thursday, AirAsia founder and CEO Tony Fernandes said that the airline is keen to start operations in the North East region. "North East looks very exciting to me. We are about exploring new areas we will go places where no one has. North East certainly appeals to us,"he said.
Fernandes said AirAsia India has got tremendous response.
"I am super thrilled that our initial start has gone really well where we already have for the month of July a load factor in excess of 90%, which shows that our model is something that the people of India have been waiting for," he said.
Chandilya said the airlines ticket for the next two months have been sold out.
"The tickets for our first ever flight between Bangalore to Goa was sold out in just nine minutes," he said.
Both chairman emeritus of Tata Sons Ratan Tata and AirAsia Founder and CEO Tony Fernandes said the Indian aviation market has the potential to allow both AirAsia India and Tata Singapore airline JV to operate.
Tata said that the potential for air travel in India is enormous for both AirAsia India and Tata Singapore airline JV to operate competitively.
"I am convinced and so is the Tata Group that the potential for air travel in India with population and the growing prosperity air travel is going to be a very very important form of connectivity for both leisure, business and essential services," he said.
Fernandes welcomed the Tata Singapore airline JV which is slated to start operations by the end of the year. "I have no objection to Tata Singapore airline JV in fact it is good for the market," he said.
Fernandes also hoped that the central and state governments should create a conducive environment for the budget airline.
"We want to reduce cost as much as possible and transfer that to lower-priced tickets, and we hope that the central and state governments will look at ATF, developing low-cost infrastructure and not taxing this industry. Today in Malaysia, Thailand, Indonesia everyone flies so we hope the government will allow the one billion people to fly. This should a mass industry and the purview of a few people," he said.
—With Reuters