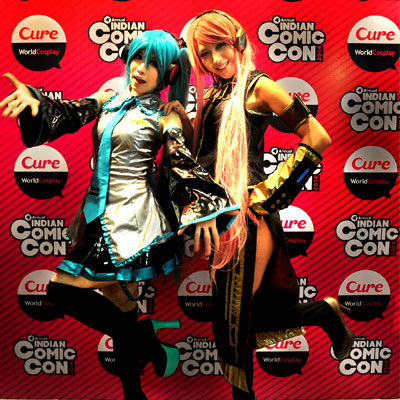 Despite a bunch of acclaimed international comic artists and quirky cosplayers, what drew the biggest crowd at the 14th Comic Con in Delhi were Japanese cosplayers Miya (28) and Kotori (24). Sporting blue waist-length hair, Kotori was stunning in a silver shit and black ankle-length skirt while Miya drew fans with her pink waist-length hair and slit black dress.
Flown down to India by the Japan Foundation to be a part of the three-day event, the colourfully dressed girls spent the better part of the day obliging besotted fans that ranged form 3 year old kids to 50 year old grandmothers.
Miya and Kotori are part of Japan's massively famous Cure Cosplay, a platform for cosplayers from around the world to exhibit their costumes. Cure Cosplay started out in 2001 and has more than 400,000 registered users. In 2008, the website was made available for English users.
Cosplay is a cultural phenomena that has its roots in Japan, and now has fans around the globe. Cosplayers love dressing up as a character from anime series, movies, games, and sometimes also make up their own costume designs. Harajuku, a district in Tokyo, is home to Japan's most colourful and quirky cosplayers. Some of the popular characters include Lolita, Voldemort, Harry Potter, Satsuma, Naru etc.
Kotori is a cosplayer from Harajuku and her favourite character is Lolita. But seemed to love all the adulation from her Indian fans that came from portraying Volcaloid. Miya and Kotori were both portraying Volcaloid, a character from Yamaha's Soundsystems, in two different time periods from the Kryptonian future.
"I love being the character that I am portraying, and in a way live the character's life. It is a lot of fun, and I enjoy the attention that my work gets me. But, when the fun runs out, I guess I will most possibly be behind a camera clicking portraits of cosplayers," says Kotori, who usually travels around Asia portraying Volcaloid for Cure Cosplay.
When not cosplaying, Miya moonlights as the director of Cure Cosplay and right now is invested in ensuring that Cure Cosplay reaches out to fans all around the globe. "Cosplay is huge in Japan. I don't know a single person from my age-group who does not follow anime. Once you are a fan of these comics, cosplay becomes a natural choice," says Miya.
With the venue moving to a larger space in Thyagaraja Stadium from the usual Dilli Haat, the Comic Con saw a huge number of participants in the cosplayer competition. There were the Mario Brothers, several Jokers from the Batman series, Sandman, Spiderman, Harry Potter, various anime characters etc. The winner of the cosplay competition, to be declared Sunday, will win a ticket to the New York Comic Con to be held late April this year.