Smita Balram Kumar samples nostalgia as Bangalore-based chef Arzooman Irani pays tribute to Anglo-Indian cuisine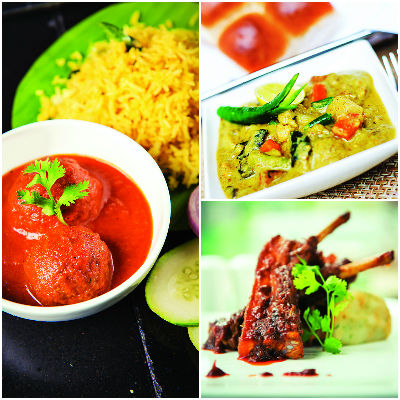 India has an interesting culinary landscape. Amidst cuisines she graciously offers stands a legacy of flavours left behind by the British raj – Anglo-Indian food. Indian cooks married British roasts, pies and puddings to spices, ingredients and methods of cooking.
This cuisine of mixed British and Indian parentage saw English soups tempered with cumin and red chillies to make mulligatawny, beef stew made in pressure cooker, roasts in curry form with whole spices like cloves, cinnamon and turmeric, and the classic meatball curry made with Indian spices and saffron served on a bed of coconut rice. Indian kitchen specials like yoghurt and almonds also found their way into British cooking. These modified dishes have been passed down generations but only a few are aware of them.
Bangalore is a heritage hotspot for Anglo-Indian settlers. History has it that the Maharaja of Mysore, Chamaraja Wodeyar, granted 3,900 acres of land in 1882 to the Anglo-Indian association to establish agricultural settlements in areas, namely Whitefield, Glen Gordon and Sourmond in Mysore state.
Whitefield, known for its mango orchards and rose cultivation, is a popular software township in Bangalore. So, when a 100-year-old diary with handwritten Anglo-Indian recipes by Harry Blake – an original settler of Whitefield – was handed down to executive chef by Blake's existing family, a nostalgic tribute was bound to happen. The result is an ode to the culinary history of Whitefield by Chef Arzooman Irani of Vivanta by Taj. Titled Chronicles of Whitefield, the chef has created a menu that revisits motorcycle days of this Anglo-Indian village.
"Blake's recipe book was handwritten in 1906. We got a group of calligraphers to decipher it. It took us about two years to understand and translate it into an à la carte menu with 70 to 80 dishes. We have gone for original flavours mentioned in the book with minimal tweaking. For instance, we dulled the sweetness of marmalade and Harry's Mithai Blake," says Irani.
Interestingly, the Anglo-Indian dessert menu is as eclectic with fusion puddings and sweet meats like rose cookies and kul-kuls, usually seen around Christmas. Any thoroughbred Anglo-Indian will tell you how an ideal fare must have a wine before the meal and a dessert after. Listing the must-haves for an Anglo-Indian table, Irani says, "There should be a non-vegetarian delicacy made using beef, chicken, prawn, lamb or pork. Anglo-Indians are not big on dal. But a dish made with vegetables must accompany the flavoured rice and breads. We at the hotel serving a refreshing ginger wine. Of course, a rustic dessert like pie, soojee or coconut pudding and kul-kuls ends the fare."
We decided to try a few dishes on the vintage menu. The lunch had Harry's Fish Curry, Country Captain Chicken– once enjoyed by the captains of British trade ships– and the classic Mutton Ball Curry. Apparently, the cattle then were grazed in the woods rather than grasslands to get an herby flavour for the lamb curry. We were also served a light-flavoured vegetable stew, which made for cooking competitions between women of the historic times in Whitefield. All dishes were served with coconut rice, tomato pulao and soft breads, capturing the essence of the cuisine. Baked Soojee Pudding and crispy kul-kuls ended the experience.
Irani describes Anglo-Indian cuisine as "rustic and wholesome". He says the dishes are easy to prepare but one must tread this culinary path with caution. "Anglo-Indian dishes look Indian, but the flavours are different. The dish has spices, but it's not spicy. One must get the flavours right or you could easily make the dish completely Indian," he explains. Indeed. The spread served was as much Indian as British straddling the fine line of flavours and spice.
According to the chef, this holds especially true for the milder Whitefield palate. The cuisine differs with each region demarcated usually around railway junctions. Anglo-Indian delicacies are spicier in places like Kolar and Kolkata and take a new route in Goa.
Besides laying hands on the recipe book, Irani met existing Whitefield residents and returned with experiences and anecdotes. "Those days, after visiting church on Sunday, Anglo-Indians always returned home for a family feast. However, they needed time to prepare the meal. To keep their kids busy in the meanwhile, they gave them a metal ball with some ingredients to roll around and play with. Eventually, all the rolling created ice-cream!" narrates Chef Irani, who was fascinated by this fun contraption. He could not find the original but managed to get a similar rolling gadget. He introduced it at the hotel's Sunday brunch for kids to play with and make ice cream in.
Irani is guarding the 100-year-old recipe book with his life. It is an heirloom for his kids.