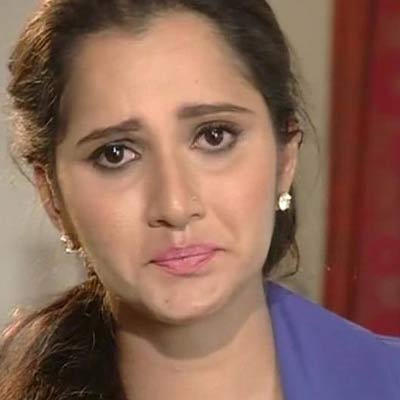 World Doubles No 5 Sania Mirza on Thursday was dragged into a controversy when Bharatiya Janata Party (BJP) and Congress politicians from Telangana questioned her Indianness over the event of her being nominated as Telangana's brand ambassador. BJP MP K Laxman even called her a 'non-local' and 'daughter-in-law' of Pakistan.
Mirza had on Thursday reacted to the uproar with a series of tweets. But as the issue refused to simmer down, Mirza came out to speak about the controversy to the nation
Maintaining that the entire issue was hurtful, upsetting to her and her family, Mirza asserted that she is as patriotic as anyone could be, having represented the country and bagging numerous medals on several occasions . 'I am not gonna let anyone question my roots, my family roots', she said to a news channel.
She said it was 'unfair and hurtful to her' to keep proving my Indianness.
She also said that Indian Muslims are always questioned about their patriotism which she found to be unfair.
Reacting to the statements on her marriage to Pakistani cricketer Shoaib Malik, Mirza said that 'We live in a male chauvinistic society and we all have to deal with it.'
The constant focus and criticism of her marriage to Malik hit a raw nerve as a tearful Mirza asked, 'I am I picked on? Why now?
'Why do I need to prove I am Indian, is it because I am married (to a Pakistani)?'
The defiant tennis star bounced back saying, 'I am too strong to be hurt by this (and) will continue representing India. You can't take away the fact that I am Indian and (question) my Indianness.
'I am representing Telangana, India so I want to make it proud'.
She spoke about her new role as the brand ambassador of Telangana showing that the ridiculous comments did not hamper her spirit.
She has a lot of plans for the development of the game in the state. 'My main aim is to bring sports up in the state and reach out more rurally and with the government's help it will be a lot easier.'
Also Read: Sania Mirza has shown Indian girls what is possible; she is the brand ambassador of the country: India comes out in support