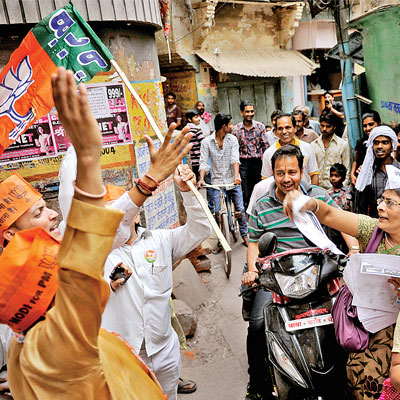 It has been over a week since the Aam Aadmi Party (AAP) started its campaign and already 40,000 calls from across India have been made by its supporters to voters in Varanasi and Amethi to convince them about voting for AAP.
The "long distance calling campaign" is adding to AAP's on-ground and door-to-door campaign in Varanasi and Amethi from where Arvind Kejriwal and Kumar Vishwas are in the fray.
"Campaign started on April 14 and since then over 19,500 calls have been made to voters in Varanasi and around 20,500 calls to voters in Amethi by people from across India," AAP's Nandan Misra, who is handling the campaign, told dna.
"The main reason behind our campaign was to give voice to all those who can not come to Varanasi or Amethi for AAP's campaign. It has ensured that a common man can campaign for us sitting at his or her home even without being a party leader," Misra said.
Under this calling campaign, AAP has started two toll free numbers – one for Amethi and another for Varanasi – using which any person sitting from anywhere in India can call voters there to convince them about voting for AAP. The voter to be connected in Varanasi and Amethi is chosen automatically from a database of people that AAP has.
While calls were made from all over India including distant areas and villages, maximum calls for Varanasi came from eastern UP (including Varanasi), Karnataka, Mumbai, Delhi among others. For Amethi maximum calls came from western UP area, Delhi, Mumbai, Karnataka, Chhattisgarh and others.
"What is heartening is that there were calls even from places like Tamil Nadu wherein the caller was speaking in broken Hindi to a voter in Varanasi. There have been many calls from villages in Varanasi as well – for instance we noticed several calls from a youth in Kotwa village in Rohaniya assembly constituency," added Misra.
"There is an AAP supporter from Hyderabad, Gomathi Tai, who is making around 500 calls every day," said Misra adding the party is also being careful and not calling on numbers listed in DND (Do not disturb) list.
In all, there were over 65,000 calls made to voters in Varanasi and Amethi since April 14, but only around 25% got connected to voters due to infrastructure problems that the fund-starved AAP is facing as their present system only allows 200-300 calls at a time.
An interesting trend, which AAP has witnessed, is that while BJP supporters are trying to sabotage the calling campaign in Varanasi, they are supporting 'Vishwas Bhaiya' in Amethi. "In case of Varanasi, we tracked around 3,500 calls by BJP supporters who were dusturbing our campaign and pitching for Narendra Modi. But in case of Amethi, the BJP supporters were urging voters not to vote for BJP's candidate Smriti Irani but for Kumar Vishwas to ensure defeat of Congress's Rahul Gandhi," Misra revealed adding they are contemplating legal action against such people.
Meanwhile, NRIs, who are an important support group for AAP, have also tried to help but the toll free numbers cannot be accessed from outside India and thus they are now trying to create a separate platform using which they would start a similar campaign.