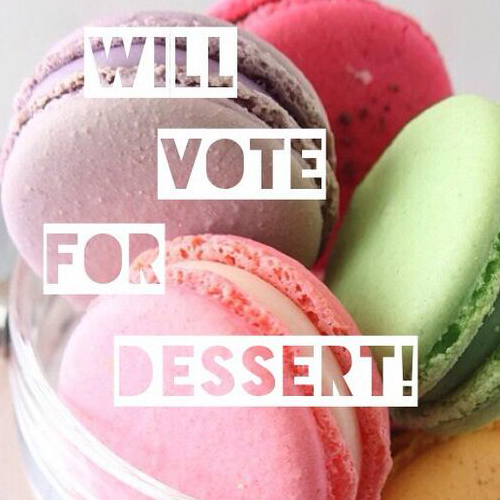 Mumbaikar's are known to have a massive apathy towards voting. They prefer to stay indoors, drink a scotch and talk of the BMC's failure model and idolize the Gujarat Development model rather than going out and voting. This year, to get more folks to go out and vote, many Mumbai joints have decided to give out amazing discounts and offers for those who come in with that magic blue dot on their left hand.
Here's a look at the offers
Le 15 Patisserie is offering a 10% off on all in-store treats tomorrow. The offer is open at all their outlets.
Valino a pub in Malad is offering a free drink to all those who come in after voting. Do note though, the dry day restrictions end at 6pm. So if you vote too early in the day, you'll still have to wait to claim your drink.
Sahara Star at Santacruz is offering 15% discount on room stay, food and soft beverages at their restaurants.
Spaghetti Kitchen, Bombay Blue, Noodle and Copper Chimney are also offering a 15% discount on food and non alcoholic beverages.
Ice Cream Works is offering a massive 50% off for voters at their branches at Chowpatty, Shivaji Park and Goregaon.
Woodside Inn, at both their branches are offering a buy one get one free deal on all their pizzas (same or lesser values). They also have a specials menu which you could check out at the venue.
Hard Rock Cafe Andheri has a voters only party on April 25 (tomorrow) at 8 PM. Entry free for those with an inked finger.
Bistro 1 Cafe Andheri (W) is offering a free cold or hot coffee for free for voters on April 25th.
Sun N Sand (Juhu) is offering a 20% discount and unlimited soft drinks on the dinner buffet at Aqua their coffee shop.
6th Street Yogurt is offering discounts based on your age. So if you're 40, you get a 40% discount. Age proof required.
Uber the mobile app based cab company is offering its customers a free ride to their local polling booth. Check the Uber app for more details.
@PartyHarDrivers is giving out to 5 lucky people free PDH service. All you have to do is tweet to them a picture of your inked finger.
BRU world cafe is giving a 20% dicount for voters at their cafe @abhishekroy09 informs us
Ink at Wink is offering One-on-One offer on the 24th and 25th April at Taj Vivanta in Mumbai.
Also note, prohibition will end at 6pm on voting day and all restaurants and bars will start selling alcohol after that.
Please call and check with each store/restaurant before making purchases. DNA does not vouch for these offers.