The Lok Sabha passed the bill on Tuesday amidst a media black out that was blamed on a technical snag.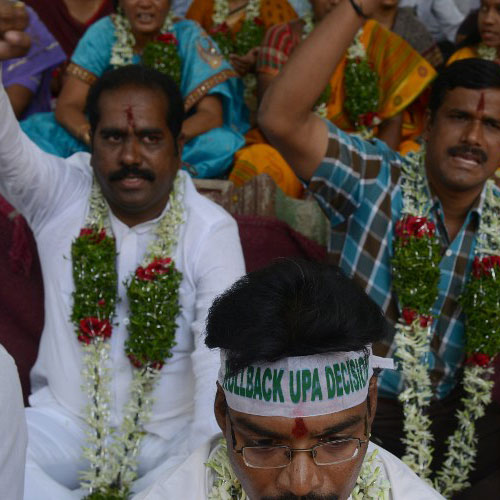 Normal life in Rayalaseema and coastal regions of Andhra Pradesh came to a halt Wednesday on a shutdown call by YSR Congress party to protest the manner in which the bill for formation of separate Telangana state was passed in Lok Sabha. Read
See pictures of celebrations after Lok Sabha passed Telangana Bill
From being the hand-picked choice of Sonia Gandhi as Andhra Pradesh Chief Minister to sitting on a dharna in Delhi against division of the state, Nallari Kiran Kumar Reddy has turned from a Congress regional leader to a disgruntled rebel in his nearly 39-month tumultuous tenure. Read the former CM's profile
BJP condemned the blackout of Lok Sabha TV coverage when the crucial Telangana bill was taken up in Lok Sabha and passed a resolution against it. Read
With the passage of a bill in Lok Sabha, formation of a separate Telangana state has almost become a reality. But there are still some formalities left to complete the entire process.
If all goes well, two states - Telangana and the residuary state of Andhra Pradesh, will come into existence by month-end, say political observers. Read
Home Minister Sushilkumar Shinde said Kiran Kumar Reddy was opposed to the division of Andhra Pradesh and was left with no other option but to resign as Chief Minister after the Centre's decision to split the state. Read
Noisy protests erupted in Rajya Sabha with members opposed to division of Andhra Pradesh trooping into the Well and a TDP member snatching papers from Secretary General Shumsher K Sheriff forcing two adjournments in the pre-lunch sitting. Read
Kiran Kumar Reddy expresses anguish over AP division. Read more