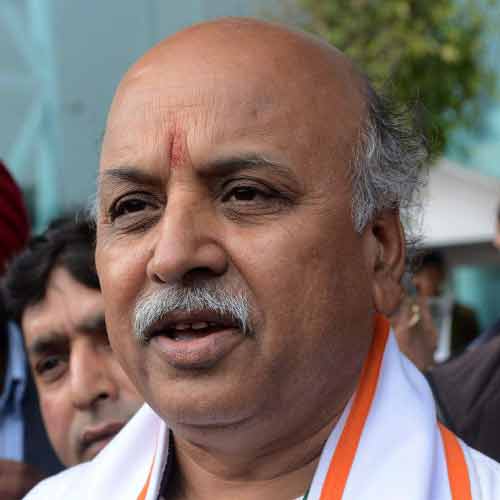 VHP president Pravin Togadia said on Sunday in Gujarat that Muslims should be barred from buying property in Hindu-dominated localities.
He also told the gathering, attended mainly by local residents and Bajrang Dal workers, that a 48 hour ultimatum should be given to the Muslim occupants of the house to move out, failing which Bajrang Dal should storm the house and take posession of it.
The comment caused much outrage, but the RSS denied that Togadia had made any such comments. It said that the news was fabricated, and Togadia himself claimed that it was a 'conspiracy' against him.
Social media, however, is not ready to let the issue die down quickly. Twitter was buzzing with the #ArrestTogadia on Monday, where Twiterrati slammed Togadia, RSS and the BJP. However, some Twitter users had a different take as well.
Mr Davesh Dixit took a dig at several politicians in his tweet:
Pravin togadia, Amit shah, narendra modi, owaisi, Azam khan...etc r persons of sick & venomous mentality. #ArrestTogadia

— Davesh Dixit (@DaveshD) April 21, 2014
Karan Sharma indirectly targeted Narendra Modi for Togadia's hate speech:
What dev r we talking abt wen we can't safeguard d constitutional rights of our own countrymen..is dis d celebratd guj model? #ArrestTogadia

— karan sharma (@karan0022) April 21, 2014
Rashmi Tambe also called for the arrest of Giriraj Singh:
#ArrestTogadia people like Togadia and Giriraj Singh should be arrested for preposterous, rabble-rousing poison they r spilling...

— Rashmi Tambe (@rashmitambe) April 21, 2014
Another user had a unique take on the issue:
#muslims now hv reason 2 shift in droves to #hindu areas..and prove their #India roots..#ArrestTogadia.

— msk (@RajaalSahi) April 21, 2014
Ms. Rajpurohit however seemed to hold a different opinion:
Owaisi calls 4 murdering 90 cr hindus, PaidMedia does'nt call 4 his arrest! Or call him Communal. But they'll call for #ArrestTogadia!!!

— Sarita Rajpurohit (@brahmasarita) April 21, 2014
Joydeep shared her thought process:
I have no issues if police #ArrestTogadia, but they will have to arrest Salman Khurshid and Imam Bukhari first.

— Joydeep ??????? (@joydeep1985) April 21, 2014
This user offered another unique perspective, obliquely, which none of us would have thought of:
#ArrestTogadia for sure! He's guilty on many counts in past!But he has fallen out with BJP! So think who benefits from this planted story!

— Anil Dubey (@Navi_ator) April 21, 2014
The controversy over Togadia is unlikely to die down soon, as the Congress and other opposition parties are sure to use it to grill the BJP and its PM candidate Narendra Modi. The fact that the incident took place in Gujarat, Modi's state, could provide additional fodder for the Congress and its allies. Moreover, the Election Commission has sought the tape of Togadia's speech.