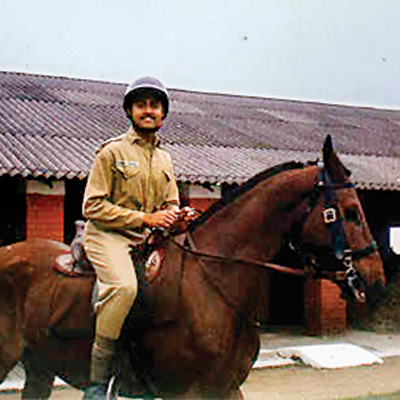 He died fighting in Kargil in 1999. But ensured Rukhsana, his foster daughter, continues to receive sustenance long after he was gone "enjoying the hospitality of Apsaras (fairies) and watches over his family from the skies above".
These last words of 22-year-old Captain Vijayant Thapar to his family are the only solace for his father Colonel (retd) VN Thapar. For 15 years he has been fulfilling the last wish of his son without fail.
Capt Vijayant was moved by the plight of Rukhsana whose father was killed by militants in front of her eyes in Kupwara in 1998. The young army officer would provide for the girl, until his unit received marching order to Kargil.
Rukhsana dominated his thoughts when shells were exploding all around. The officer apparently had a premonition. And he penned a moving letter to his family. "By the time you get this letter I will be observing you from the sky enjoying the hospitality of Apsaras….I have no regrets. In fact if I become human again, I will join the army and fight for my nation….Contribute some money to orphanage and keep helping Rukhsana," the letter reads.
Capt Vijayant first met Rukhsana when was posted with 2 Rajputana Riffles and deployed for counter- insurgency operations in small village when he learnt about Rukhsana's plight. Four-year-old Rukhsana had slipped into a shock after her father was killed by militants at Tursoo village-Nathnoosa. The young officer proved to be Good Samaritan and Capt Vijayant helped her come out of the depression. Rukhsana had slipped into a withdrawal syndrome after her father was killed a year ago. "Robin (Capt Vijayant's code name) used to play with her in his free time and buy her chocolates," said Colonel (retd) VN Thapar, late Capt Vijayant's father..
Then came the call of duty and Captain Vijayant and his unit was moved to Drass during Kargil war. He fought valiantly against Pakistani soldiers before falling to enemy bullets at Knoll. He was awarded Vir
Charka posthumously.
Fifteen years on Colonel Thapar's bonding with the Rukhsana continues. He has promised Rukhsana that he will attend her marriage. "Yes I will go for her marriage. Our bonding continues with that girl. I am in touch with her family," Col Thapar said.
Stories of bravery, pride and pain galore in Jammu and Kashmir about Kargil. Every family of the martyr today is proud of their sacrifices amid the usual bouts of pain and agony.
Like Sharada Bau, 44, of Jammu. She is readying her son to join army to fulfil the job left unfinished by her husband Havaldar Dilhear Singh Bau of 12-Jammu and Kashmir Light Infantry. Dilhear laid down life in Kargil war.
The tragedy has only motivated her to revive her family's tradition to send one of the three sons to army as a commissioned officer. "My elder son could not make it to the NDA because he had crossed the age limit by a few months. So now I want my younger son to join the armed forces," she said.
Vinod Chaudhary, 32, rues that he could not join the armed forces after his father Havaldar Madan Lal of 18 Grenadiers died fighting Pakistani forces on the Tiger Hill. But he has not given up hope and wants his son to become the army officer. "When I will have a son I will send him to army. After my father died I had to shoulder responsibility of my family. I took up the government job while as my first love was army.
Now I wish my son fulfils my dream," he said.
There are others who are still fighting to restore the honour of martyrs. Hundreds of miles away from Kargil, Naik Dost Mohammad Khan's family is yet to come to terms with the tragedy of 1999. His family was waiting for Naik Dost of Kupwara to return on leave. But instead came his coffin. Naik Dost of 12 Jammu and Kashmir Light Infantry was one of the few Kashmiri soldiers who laid down their lives for the motherland in Kargil. "I cannot express my tragedy in words. I get jitters when I remember the day when his body arrived," said Shah Begum, wife of Dost Khan.
Fifteen years on, the family is aghast about the apathy of the authorities towards the sacrifices made by Dost Khan. "I do not know why we have not been invited for Kargil Diwas," said Akhtar Ali Khan, brother of Dost Khan.
Meanwhile, the Indian Army is preparing extensively to honour the martyrs of the Kargil War of 1999 in a series of solemn ceremonies this year. The primary event which shall mark the 15th anniversary of
the victory is scheduled to be held at War Memorial Drass from July 25 and 26. It will be attended by a large number of dignitaries of the Army and civil administration as well as gallantry award winners of the conflict and families of many martyrs.