For the first time, India's six neighbours along with Mauritius get together for a new experience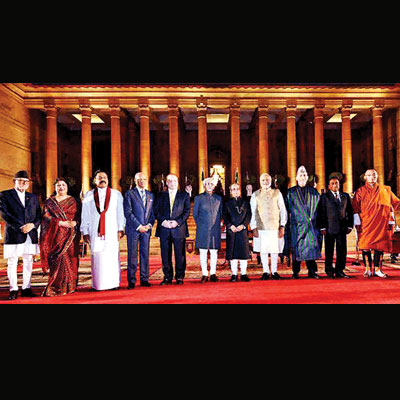 Soon after being sworn-in, prime minister Narendra Modi on Monday night met the leaders of SAARC countries, including Pakistan's prime minister Nawaz Sharif, at a dinner hosted by president Pranab Mukherjee.
Modi had brief exchanges with Sharif as also with Afghan president Hamid Karzai, Sri Lankan president Mahinda Rajapaksa, Bhutan prime minister Tshering Tobgay, Nepal prime minister Sushil Koirala and Maldivian president Abdulla Yameen Abdul Gayoom, official sources said.
All the leaders, who were here to attend Modi's swearing-in ceremony, gathered at the reception hosted by Mukherjee at Rashtrapati Bhavan, they said.
Modi will formally meet Sharif and other leaders on Tuesday.
Promising to turn a "new page" in India-Pakistan relations, Pakistan's prime minister Nawaz Sharif came to India on Monday to attend the swearing-in ceremony of prime minister Narendra Modi.
In a way it was life coming full circle for him as it was Sharif who had started the dialogue and peace process with the then prime minister Atal Bihari Vajpayee in 1999. Apart from extending good wishes on behalf of the people of Pakistan, Sharif is also expected to extend an invitation to Modi for a visit to Pakistan.
Before leaving for the ceremony at Rashtrapati Bhavan, Sharif told the mediapersons waiting in the lobby at Taj Mansingh Hotel where he is staying that he has a "message of goodwill and good wishes from Pakistan" for India's new prime minister and his government.
Sharif had a slew of meetings with Indian journalists and businessmen during the day before the ceremony in the evening. After the ceremony, Sharif and other SAARC (South Asian Association for Regional Cooperation) leaders attended the dinner hosted by President Pranab Mukherjee.
Sharif is scheduled to meet Modi on Tuesday noon when the two leaders are expected to discuss various measures to increase co-operation and dialogue amidst other things. Steps to remove clouds of mistrust are also expected to find their way into discussions.
Earlier in the day, Sharif said that both governments – Indian and Pakistani – have a strong mandate and that could help in 'turning a new page in our relations'.
While talking to a news channel, Sharif said that he intends to take up threads from where he and Vajpayee left in 1999.
Though no great breakthrough is expected from the Modi-Sharif meeting, it is hoped it would re-start the dialogue that had taken a severe hit since the Mumbai attack in November 2008.
Meanwhile, the day also saw history being made when leaders of all SAARC countries and Mauritius came together with Modi after the swearing-in ceremony. Incidentally, at present, all eight countries have democratically elected governments.
This was the first time that SAARC heads of government were invited for the swearing-in ceremony of an Indian prime minister.
Sri Lanka's president Mahinda Rajapaksa, who attended the ceremony even as political parties in Tamil Nadu voiced their displeasure, said, "in electing Modi as their prime minister, the people of India have unambiguously chosen the path of change, development and effective leadership."
"The decision of the people of India (to elect Narendra Modi as PM) resonates across boundaries. India's progress can, no doubt, enhance the region's growth, development and security," said Rajapaksa.
Modi's masterstroke of inviting leaders of all seven SAARC countries as well as Mauritius's has been hailed as a positive diplomatic start to his reign.
He would hold bilateral meetings with them starting with Afghanistan's president Hamiz Karzai at 9.30am on Tuesday which would be followed by a meeting with presidents of Maldives, Sri Lanka, prime minister of Bhutan, Mauritius, Nepal, Pakistan and then speaker of Bangladesh.
Leaders of Pakistan, Afghanistan, Maldives, Sri Lanka and Mauritius would return home by Tuesday while leaders of Bhutan, Bangladesh and Nepal fly back on Wednesday.