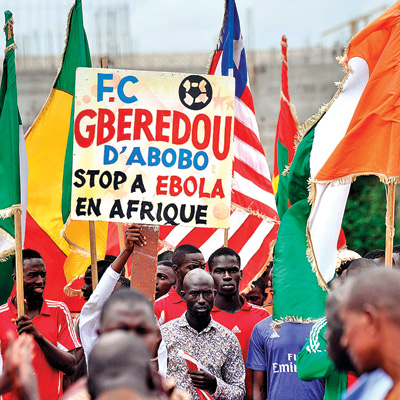 A bout of diarrhoea prompted a Vasai resident, who had returned from Nigeria on July 28, to visit the civic-run Sir DM Petit hospital last evening to check if he has Ebola.
While doctors found no symptoms, he has been asked to remain home quarantined as a precaution. With a fair amount of scare gripping the city, the state health ministry and Brihanmumbai Municipal Corporation (BMC) have got into action. Dna takes a look at how the nation, in general, and the city, in particular, are gearing up to fight the virus.
The Union health ministry has opened a 24-hour Emergency Operation Centre from August 9. The helpline numbers are: 011-23061469, 23063205, 23061302.
What's the state doing?
State health director Dr Satish Pawar said that the Union ministry too an emergency meeting today to form guidelines on how to handle Ebola. The Airport Health Organisation says eight doctors and over 30 paramedical staff have been pressed into service at the city airport. "We've asked the National Institute of Virology, Pune, to process blood samples on a priority basis," Pawar said. The state has 700 protective gears.
How well prepared is Mumbai?
The BMC has already allotted beds for keeping suspected cases for isolation. "We've set aside 10 beds each at the Jogeshwari trauma hospital and Kasturba hospital in Chinchpokli," said Dr Padmaja Keskar, the executive health officer of BMC. Private hospitals like Seven Hills in Andheri and Jaslok have also made arrangements for quarantining Ebola patients. Dr Om Shrivastava, infectious disease expert at Jaslok hospital said, "We are in touch with doctors abroad who have dealt with Ebola positive patients."
What are the national-level efforts?
India has made elaborate arrangements at airports to deal with infected passengers. Every airport has a health officer and the Union health ministry has opened a control room. Advisories for Indians living in Africa or people visiting and returning from West African countries are also out.
What's the latest global update?
A panel of ethicists convened by the World Health Organisation (WHO) is debating whether drugs that haven't been widely tested for safety should be used to arrest the outbreak. An antibody cocktail, Zmapp, by Mapp Biopharmaceutical has already been used to treat two Americans. A treatment by Vancouver-based Tekmira is another possibility. The US National Institute of Health is also developing a vaccine and it may begin enrollment in a Phase 1 clinical trial by this fall.
How deadly is the virus?
Ebola has historically killed as many as 90 per cent of those who contract it. The current outbreak has a fatality rate of about 60 per cent. It has already killed 961 people and sickened 1,779 in West Africa since it was first reported. It began in December with a two-year-old child in Guinea, according to research published on April 16 in the New England Journal of Medicine. Since then, the disease has raced through Guinea, Liberia and Sierra Leone, and recently entered Nigeria. Nigeria's President Goodluck Jonathan last week declared Ebola a national emergency.
How does the virus work?
Viruses such as Ebola and Marburg liquefy the internal organs, causing some victims to bleed even from their pores. Neither has a cure and is transmitted through contact with bodily fluids and can kill within days.
Are more Ebola-like scourges possible?
Yes. Global health authorities are alarmed by the certainty that new Ebola-like scourges are on the way. As Africa's burgeoning population continues to push into tropical ecosystems -- farming, cutting down trees and grazing cattle where they never had before -- countless more people will blunder into the ancient webs of parasitism between unknown microbes and animals and thus become possible hosts themselves. Climate change sparked by fossil fuel use in industrialised countries is disrupting the tropical ecosystems of Africa and probably will unleash unpredictable new epidemics.
How many African students are there in India?
There are approximately 15,000 African students in India, which include African students coming to India for studies on their own and those on scholarship and other programmes.
How many Indians usually travel to affected African countries?
There are around 30,000 Indian nationals in the four affected countries. India has around 500 nationals in Guinea, around 1,400 in Sierra Leone (of which 500 are on short- term contracts), about 3,000 nationals in Liberia and approximately 25,000 in Nigeria. Indian missions are undertaking awareness programmes about Ebola prevention.
—With some inputs from Bloomberg