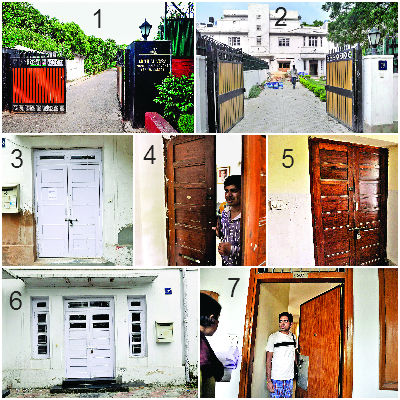 Congress treasurer Motilal Vora occupies nine government accommodations in Luytens' Delhi. As a Rajya Sabha member, Vora has been allotted house number 33 in Lodhi Estate. But in reply to an RTI query, the Rajya Sabha secretariat has confirmed Vora is in possession of six more bungalows and two government flats.
So, is Vora renting out these flats?
House Committee rules allow MPs to rent out accommodations, but only for a specific duration. Former MPs KC Lenka and Dwijender Nath Sharma live in Vora's official VP House accommodation as his guests. In one of the four bungalows in North Avenue, party workers from Maharashtra and Chhattisgarh are living as his guests.
How much is the rent?
While market rates of these houses could be close to a lakh, if you are the guest of an MP, you could stay in posh localities at throwaway prices. For example, the rent for a flat at VP House is about Rs 12,000-15,000. A bungalow in North and South Avenues are rented out at Rs 19,000.
Why should MPs be allowed to rent out accommodations?
MPs can ask for guest accommodations for some prominent people from their constituency for a short duration stay in the capital. However, most of the guests living in these houses are former MPs, who had to vacate their official houses after being are out of power. These guests accommodations are their second homes in Delhi.
Where does Vora stay?
Vora's most recent guest is former Congress MP Raj Babbar. Babbar will move in to 79, South Avenue, which has been under Vora's possession since 2006. It's currently undergoing major renovation. Babbar is the third guest to occupy the bungalow.
Where are the eight other flats?
Vora possesses bungalows 49,63, 78 and 112 in VVIP North Avenue. In South Avenue, he has bungalow numbers 49 and 139. The two avenues are in the vicinity of the Rashtrapati Bhawan. Flat numbers 124 and 507 in Vithalbhai Patel House are also allotted to him.
Can an MP possess eight flats?
Any sitting MP can ask for a guest accommodation on a temporary basis. They are allotted to sitting MPs for three months and are then reviewed. As per House Committee guidelines, guest accommodations can be extended up to six months. Vora also has guest accommodations. Only, he has eight of them.
Who are the other MPs having so many guest accommodations?
Out of the 46 houses being occupied by guests, Vora has the highest number of guests. MPs Janardan Dwivedi, Anand Shrama and union ministers Arun Jaitely and Nejma Neptulla also have accommodated
one guest in Delhi.
So, is the govt taking any action against Vora?
The Rajya Sabha secretariat, through the Directorate of Estates, has sent eviction notice to Vora for getting the premises vacated. However, when dna visited two sites where eviction notices have been
served, they continued to be occupied by his guests.
Finally, what's Vora saying?
He has rubbished the RTI and denied possessing eight houses. "I have only 78 North Avenue and 139 South Avenue allotted in my name. For the rest, I have no information," he said.