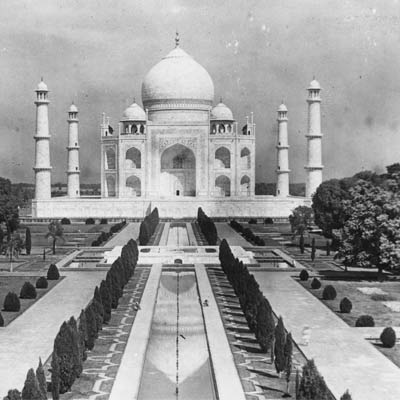 The first ever picture of Taj Mahal, along with early black and white photographs that were painted to give a sense of colour, now form part of rare and iconic photographs put up for display here.
Coinciding with 175th World Photography Day, an exhibition of photographic history of India and its "confluence of cultures" with other South Asian neighbours of British Imperial period are set to displayed at the Indira Gandhi National Centre for Arts (IGNCA) here.
The photographs are part of the Alkazi Foundation of Arts, which has remounted as a single show pictures which were part of two previously held exhibitions "Allegory and Illusion: Early Portrait Photography from South Asia" in New York and 'Unveiling India, the Early Lensmen (1850-1910)' in Brussels. "We are trying to put together the visual history or photographic history of India which is not isolated from rest of South Asia. Whatever cultures India had is closely related to those of Sri Lanka, Burma, Nepal and South Asian countries of British Imperial times, which were considered British authority" Rahaab Allana, the exhibition's curator told PTI.
The showcase includes the first ever picture of Taj Mahal clicked in 1858. Photographs of Sri Lankan women and old cottages in Myanmar also find a place in the exhibition that is scheduled to be on view till September 30. "We have tried to say that British empire was not just conflict, but also confluence of cultures," says Rahaab. The photos displayed were taken during the period of 1850 and 1910 by various photographers who travelled within the country and abroad with their huge cameras to capture the frames. "The cameras were extremely large at that time. All these bulky equipment needed lot of people to carry it. Photographer had to travel with a team of eight to 10 people using various means of transport like pushcarts and bullock carts. It was actually a difficult task," says Rahaab. "We are talking about an era when there was slowness, it is a study, a sort of exploration of India and a lot of work is documentary," he says.
The upcoming photo exhibition also has a collection of painted photos. Painted art photos are those which were developed during a time when there were no colour photographs.
These photos were coloured with certain colours. The negatives of the photos shot in 1855 of first south Indian Kingdom which is now surrounded by present day Hampi, a World Heritage Site in Karnataka is also a major attraction of the IGNCA show. "Of course, if photos of ancient India are there, the cameras which gave beautiful frames to the enthusiastic photographers should also get due recognition," says Rahaab.
A total of five vintage cameras including an Eastman colour Kodak camera, which revolutionised photography with an innovative method that enabled to take multiple printouts of photographs is also on display. Apart from photography the exhibition also has collection of maps of South Asian countries from a time period between the 14th and 19th centuries.
Distinct sections created within the IGNCA's Twin Art Gallery highlight varied aesthetics of representation - portraiture, landscapes and cityscapes - visual signposts that encompass prevalent tropes, mannerisms and motivations of image production.
It focuses on the early forays into photojournalism, documentary practices as well as pictorial or art-photography oriented productions. Rahaab Allana has curated the exhibition in association with Beth Citron (Rubin Museum of Art) and Davy Depelchin (Royal Museums of Fine Arts). The history of World Photography day originates from the invention of the 'Daguerreotype', a photographic processes developed by Joseph Nicephore Niepce and Louis Daguerre on January 9, 1839. The French government later announced the invention as a gift "Free to the World".
However, the process was widely accepted and this marked the beginning of modern era of photography. The day the daguerreotype went public is considered as World Photography Day.