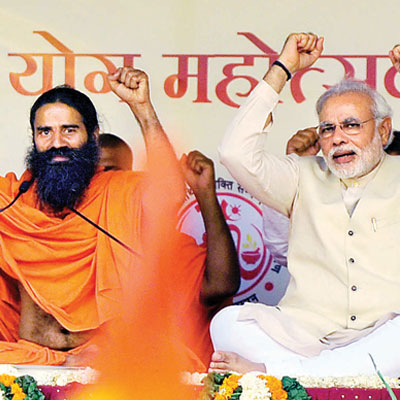 In dramatic a development, Sriram Sene founder Pramod Muthalik, who was instrumental in Mangalore pub attack in 2009, joined BJP here on Sunday afternoon and was dumped by the same party following instructions of BJP national president Rajnath Singh.
As Congress and other parties latched on the issue to attack BJP and rumblings began within the saffron party, Rajnath Singh directed the party state president in Karnataka to rescind the move. Party spokesperson Nirmala Sitharaman said in Delhi the central leadership was not consulted on the decision and has disapproved of it. "It had instructed the state party to reject the membership of Muthalik." Soon after the party chief's call, Joshi said the decision allowing entry of Muthalik has been set aside.
Sources in BJP said Muthalik's inclusion was defered due to opposition expressed by Goa BJP chief minister Manohar Parrikar and other leaders of BJP. "Criticism of opposition parties has also forced us to take back the decision," they said.
Muthalik, who had announced his candidature from Dharwad constituency, and other leaders of Sriram Sene joined BJP in the afternoon in presences of former chief minister Jagadish Shettar, KS Eshwarappa and BJP state president Pralhad Joshi. Joshi had said Mutalik was joining BJP to strengthen the hands of Narendra Modi. Speaking to reporters after joining the BJP, Muthalik, who had criticised BJP as party of corrupt leaders and land grabbers a month ago, said he dropped the decision to contest against Joshi in the interest of the nation. "To support Modi, I will travel throughout the state and campaign for BJP candidates," he added.
51-year-old Muthalik had shot into limelight after activists of his right-wing outfit had barged into the pub in Mangalore in 2009 and assaulted youngsters — women and men — after accusing them of behaving in an "obscene manner". Muthalik, who was arrested after the incident, had apologised for the violence but claimed that their actions were "aimed at protecting the women".
On his derrogatory remarks against BJP, had said it was a contextual statement. "Now there is a need of concentrating on national security and we have to forget all minor issues to face anti-national threats," he said. "Now I have realised that unity among Hindus is need of the hour," he said. He, however, said his fight in favor of 'Hindutva' will continue as ever.
Mutalik belongs to a Marathi family from Hukkeri in Belgaum district. After a long stint with pro-Hindu outfits, he finally formed the Rashtriya Hindu Sena, the parental organisation of Sriram Sene. Facing about 50 cases of violating prohibitory orders, inflammatory speeches, inciting hatred between religions, organising military training to 'protect' Hindu religion, he was in the wanted list of about a dozen district police stations. Even during the BJP's tenure, his Sene was in the news for attacking a pub in Mangalore in 2009 and many other incidents of moral policing in the state.
Failing in joining BJP in previous assembly elections, he had tried to send a warning to BJP by organising Hindu conventions in Hubli on November 8 and on January 22.