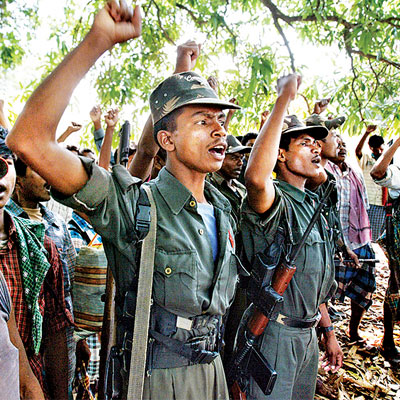 Nearly 42% of electors voted in Jharkhand Thursday in the first six hours in six Lok Sabha constituencies even as Maoist, who have given a poll-boycott call in the state, blasted a railway track and attacked security forces.
Officials said Jharkhand witnessed 42.29% polling till 1 p.m., Ranchi saw 42, Jamshedpur had 44, Giridih 45.15 and Singhbhum had 50.44% voting. The lowest voting was registered in Hazaribagh with 32.5%.
Maoist guerrillas attacked security personnel at two places in Bokaro district injuring four CRPF men. The Maoists also blasted a railway track and school building in the same district.
Jharkhand Governor Syed Ahmad and Chief Minister Hemant Soren cast their votes in state capital Ranchi where long queue of voters were seen. The first-time voters were excited to cast their ballot.
Amid a boycott call given by Maoist rebels, polling began for six Lok Sabha seats in Jharkhand Thursday morning at 7 a.m. and it will end at 4 p.m.
The six seats where polling is taking place are Ranchi, Jamshedpur, Chaibasa, Khuti, Giridih and Hazaribagh. Maoist guerrillas have significant presence in all the six constituencies.
A total of 8,525,179 voters will decide the political fate of 106 candidates.
"The new electors in the age group of 18-19 years are 388,301. The voting will take place at 10,177 polling stations, of which 2,779 are highly sensitive while 3,070 are sensitive," an Election Commission official told IANS.
The commission has appointed 1,946 micro observers to monitor the polling.
Of the total number of polling booths, 763 have been covered with video cameras, 1,194 with still cameras and 600 through webcasting.
Around 45,000 security personnel drawn from para-military forces, state police, and home guards have been deployed.
Six choppers are being used during the election, of which two have been deployed for air surveillance.
In Thursday's poll, the fate of seven legislators, former central minister and Congress MP from Ranchi Subodh Kant Sahay, Deputy speaker of Lok Sabha and BJP sitting MP Karia Munda, and senior BJP leader Yashwant Sinha's son Jayant Sinha fighting from Hazariabgh will be decided.
The third and final phase of parliamentary polls in the state will be held April 24 for four seats. Jharkhand sends 14 representatives to the Lok Sabha.