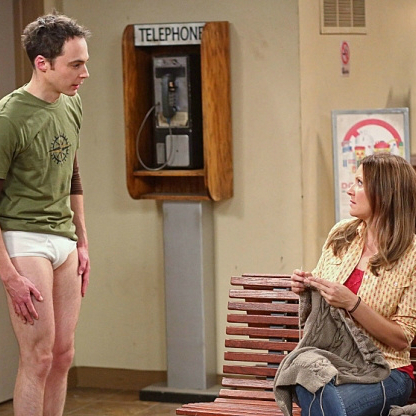 The first look of nerd comedy show 'The Big Bang Theory' is out along with summary of story line of the first episode. CBS has released the first poster from premiere episode of season 8.
The one-hour premiere episode of the eighth season is titled "Locomotion Interruption". The official synopsis of the episode reads: ' Leonard and Amy take an unexpected road trip to Arizona to pick up Sheldon. Meanwhile, Penny interviews for a job at Bernadette's company and Howard is weirded out by Stuart's relationship with Mrs Wolowitz.
This session promises some interesting stroyline. According to media sources, Penny will get a cushy job which will lead to some friction with Leonard. Sheldon and Amy's relation will also go through its fair share of problems. According to Mayim Bialik, who plays Amy Farrah Fowler, there is lot of tension in the first episode. All eyes will be on Raj too, if he can finally break his jinx to get steady love inlove. But as usual, the likely trajectory to be taken by Sheldon's character will be the most keenly watched aspect of this season of The Big Bang Theory.
There were lot of speculations whether all the stars of The Big Bang Theory will return to the show or not owing to dispute in salary. But finally the five original cast member inked new contracts. They are rumoured to get $1,000,000 per episode for the eighth, ninth and tenth seasons of The Big Bang Theory. The Big Bang Theory has earnt both critical acclaim and fan adulation. Jim Parson playing the role of Sheldon very recently won the 4th Emmy Awards for Outstanding Lead Actor in a Comedy Series.