15 minutes of battery charge can power Mahindra's electric hatchback for upto 25 km.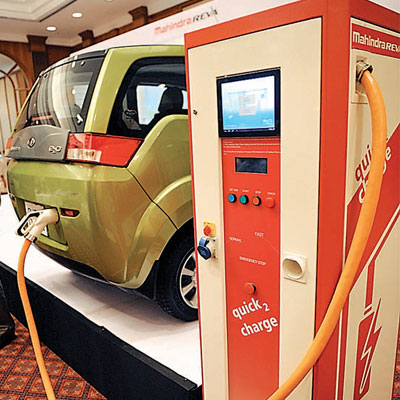 The lack of charging stations in the city is one of the biggest reasons for people interested to buy electric vehicles shelving the idea. However, with city-based electric vehicle manufacturer Mahindra Reva planning to launch fast charging stations called 'quick2charge' across Bangalore by the year end, the city might just witness a spurt in the number of e-cars on the roads.
About 20 quick2charge stations are expected to come up in the city, primarily built for charging Mahindra's electric hatchback e2o. However, the company plans to enable charging of other electric cars that operate on a lithium ion battery at the stations in the future.
The stations are called quick2charge because charging for merely 15 minutes can enable an electric car to run 25 km. Likewise, 30 minutes for upto 50 km and one hour for 100 km. In stark contrast, charging at a regular station for one hour can power a vehicle for only upto 20 km. Popular in Europe, such stations will soon come into existence at malls, metro stations, airport and other popular public spots in the city. The company also plans to launch one station on the Bangalore-Mysore highway.
Mahindra Reva is looking for public private partnerships (PPP) for expanding this concept. Developed, manufactured and designed wholly in India, each quick charging station would cost approximately Rs3.5 lakh.
"It is not always possible for people to spend hours just in charging car batteries. Hence, the quick charging points will address the time constraint," says Chetan Maini, CEO, Mahindra Reva Electric Vehicles.
Pay monthly energy fee
The company has introduced a scheme, under which consumers can pay a monthly rental fee for battery usage. Aimed at increasing sale of its hatchback e2o, post buying the vehicle at Rs4.99 lakh (ex-showroom in Bangalore), consumers will have to pay Rs2,599 per month for 800 km of usage per month.