Mohan Krishnamoorthy describes what makes the SCMM one of the best races.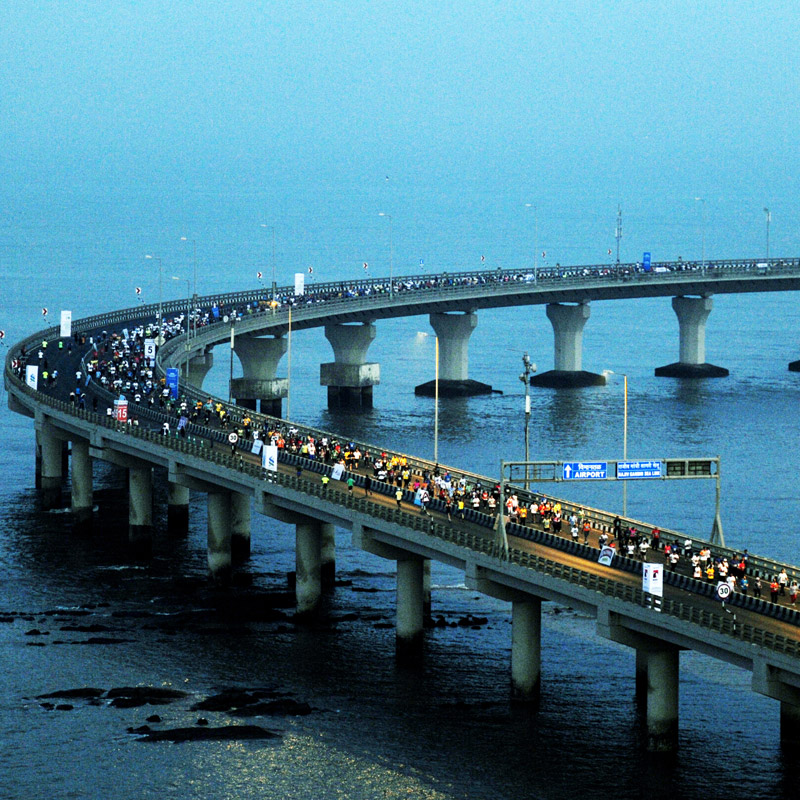 After having run a few marathons and half marathons around the world, I am quite convinced the Standard Chartered Mumbai Marathon (SCMM) is one of the best events for the amateur runner.
The SCMM is an annual event, usually held on the third Sunday in January. And it is the one day in the year when I actually applaud Mumbai's otherwise stifling, suffocating crowds. On all other days, the throng can be intense, consuming and stressful. Everyone pushes and prods you, and appears to just want to get ahead of everyone else.
However, every Mumbai Marathon I run – yesterday was my fourth – I look forward to running in the city even more, because the same crowds that jostle you every day, line the streets to cheer and encourage you to complete. For one day, the people of Mumbai make the runners feel like heroes.
People, men and women, young and old, stand in a chain of humanity along the pavements from the end of the Worli Sea Link all the way to Chhatrapati Shivaji Terminus (CST station). They applaud and yell encouragement which, I am convinced, sends enough adrenaline rushing through the runners to spur them on for at least the next two kilometres of their run. The feeling that rushes through you as you hear the support is like a drug.
Unlike last year, I had trained well for my run on Sunday, January 19, 2014. In a weak moment in January last year, I had decided that I would run twelve half marathons in the following year; this was my 12th for the year, so I was well prepared.
The main cry from the sidelines until last year, "Run Mumbai Run", was replaced this year by "Bhaag Milkha Bhaag". Even the announcers exhorted the participating Milkhas to run harder and faster to the finish line. Many spectators even yelled "Ganpati Bappa Moriya". The chants of "keep running, there's not far to go" provided a constant tonic to my exhausted feet; they not only add to the atmosphere, but also relieve the pain of running. Though, I did wonder if "fire on the mountain, run, run, run!" was an entirely appropriate chant!
The entire course was littered with advertisements for products and services. Many runners wore T-Shirts advertising the company they worked for or the charity they were running for, others had tags with the same information pinned to their T-shirts. But the most wonderful message I saw was by a young lad. Except for two words patterned on the back of his head, he had tonsured the rest. His message simply read "donate blood". I hugged him as I ran past and resolved to book myself in for a blood donation this week.
I spotted a wizened, wispy-grey-haired old gentleman seated in a plastic chair by the side of the road near Jaslok Hospital, the toughest segment of an otherwise easy course. He was probably about 80 years old and, as he applauded enthusiastically and continually, his family members handed out biscuits, lollies, orange peels and water to runners. A metre away, another family had set up a relief-station. They sprayed the weary calves and hamstrings of runners who wanted relief from pain. When I ran past, there were at least 15 discarded relief spray cans around them. Another family had set up an ice-pack station and applied ice cubes wrapped in plastic sachets to the calves of distressed runners.
I was also constantly inspired by the runners around me. Somewhere close to the finish line, I saw a visually impaired young boy being led on his run by a helper. The sheer joy writ on the face of the boy made me simultaneously cheer and tear up.
The banner holders, chanters, helpers and runners make the SCMM a truly amazing and wonderful run.
The Mumbai Marathon is wonderfully organised, but there are a few things the runners and organisers need to look into.
Many runners just dropped their water bottles – or worse, their orange peels and lollies – on the road at their feet immediately after taking a few sips or finishing their drink or biting into their orange peel. This is just poor etiquette, in my view. First, you shouldn't litter. Second, dropping juice, water and peels will make the road slippery, and the water bottles will act as needless obstacles for the runners, especially the elite runners who run at top speeds. It is best if the litter and half (or completely) empty bottles are dropped into bins or flung to one side of the road.
The SCMM has plenty of water stations, which is certainly a huge positive. The last thing you want as a distance runner is to worry about the non-availability of water. In the Mumbai Marathon, you can be confident you will never be too far from a water station while running. However, it should not be too hard to mark each water station clearly with a banner that makes it easily recognisable from at least 100m away. A blue dot that sticks out on a standee (say) 3m high will mark the station quite clearly and distinctly. Depending on which side of the road the banner is, runners who need the water can line up on that side of the road as they approach the station. The last thing you want is runners cutting across your path from one side of the road to the other the moment they realise they may be about to cross a water station.
Also, as an increasing number of people run the SCMM each year, the finishing area gets more and more chaotic. This year, apart from the fact that mobile reception was incredibly poor (though marginally better than last year), the distribution of medals and refreshment packs for runners took too long. I waited nearly half an hour to collect my race completion medal and, frankly, I had half a mind to just give up and go home. It would be great to see better organisation and crowd dispersion management controls at the finish line.
Like last year, this year too, I ran for a worthy cause: Vidya. They do some committed and wonderful work, and provide access to education to the underprivileged. If you are able to, please do visit their website and give generously. My aim was to raise at least ₹1 lakh for them, and though I have more than achieved that aim (thank you to everyone who contributed), I am sure Vidya wouldn't mind receiving more for the work they do.
But, for me, the Mumbai Marathon is about the people of Mumbai who line up the pavements from Worli to CST. These men, women and children have no reason to be out early on a cool January Sunday morning to enthusiastically encourage runners. But they are there, and I have never seen such heartfelt participation anywhere as I have in Mumbai. This, in my view, is what makes the SCMM one of the very best races in the world.
The author is a cricket tragic, a keen trekker, and music rasika. He tweets at @mohank, and blogs at i3j3cricket.com and mohankaus.blogspot.com.