IOC drops wrestling from 2020 Olympics; sport will compete with seven other disciplines for inclusion; coach Satpal Singh urges grapplers' community to challenge decision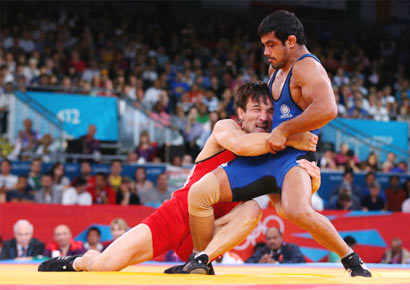 Despite being one of the oldest Olympic sports, the International Olympic Committee has voted to drop wrestling from the 2020 Games. Wrestling has been taken off a list of 26 Olympic sports.
The IOC's executive body will assemble in May to finalise its replacement. The association's general house will approve of the change when it meets in Buenos Aires in September.
DNA understands that taekwondo and modern pentathlon were under greater threat, but escaped because of effective lobbying on the part of international federations.
The announcement came as a shock to India's wrestling fraternity. "It has never happened in history, the sport is played across the world. Other federations have made wrestling a target," India's double Olympic medallist Sushil Kumar said. "Every player aims for these medals at the Olympics. Not having wrestling as a sport is disheartening."
His coach and former Asian Games gold medallist, Satpal Singh, has asked the entire wrestling community to challenge the decision.
Singh feels the decision, if not revoked, could affect India's medal prospects in the next Olympics. "The way we were training after London, I'd no doubt that India would win at least six medals in the 2016 Games," he said. "I'm sure our entire country, be it the prime minister or the sports minister, will lead a campaign to bring wrestling back into the Olympic fold."
But all is not lost for the grapplers. There's a faint chance that the sport could be reinstated. Wrestling will have to face off with seven other sports — softball, baseball, squash, karate, sport climbing, wakeboarding, wushu and roller-sports — that are fighting for inclusion in the 2020 Olympics. Softball and baseball will make a combined bid. Presentations for their inclusion (as an additional sport) will be made in St Petersburg in May.
Wrestling had 18 medal events (11 freestyle and seven Greco-Roman) at the 2012 Games — Sushil had won silver and Yogeshwar Dutt bronze.
The IOC wanted to reduce its "core" sports programme to 25, so that a new discipline could be added to the 2020 Olympic programme. The games were ranked on 39 different criteria, including television ratings and ticket sales from the London 2012 Olympics.
"It was up to the executive board members to make a decision, it was not black and white and not an easy decision, but we wanted to allow room for the renewal of the Olympic programme," IOC spokesman Mark Adams was quoted as saying.
Be that as it may, it's hard to imagine that the packed houses at the Excel Arena were not enough to convince the IOC that wrestling has a huge following.
Sushil's coach Yashvir Singh said, "We witnessed a huge crowd at the Excel Arena. If someone tells me wrestling is not popular amongst the masses, I will not buy the argument. This is the only sport played in five continents and has been part of Olympics ever since its inception."
@shekharluthra