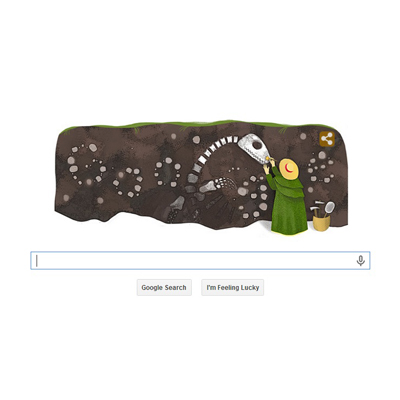 Google celebrated British fossil collector and palaeontologist Mary Anning's 215th birth anniversary with a creative doodle on it's homepage. The doodle features Anning searching for remains of animals and the fossils forming the letters of the word Google.
Mary Anning, born on May 21, 1799 became known around the world for key findings she made in the Jurassic marine fossil beds in Dorset, England, where she lived. Her work contributed immensely to the study about prehistoric flora and fauna, and to the history of the earth. Anning became famous in the geology circles across Britain, Europe and America and was consulted by other palaeontologists often regarding fossils.
Collecting fossils in Dorset during winters was a risky job, as it had to be completed quickly. Landslides exposed newer fossils and had to be dug out quickly before losing them to the sea.
Anning lived most of her life in poverty, and was excluded from fully participating in the scientific circles in Britain, just because of her gender. The scientific community was reigned by wealthy Anglican men in the 19th century. Apart from all this, she contributed a huge deal towards palaeontology, which is a study of prehistoric life, fossils and determining evolution of the organisms. Anning died of breast cancer in 1847, aged just 47.