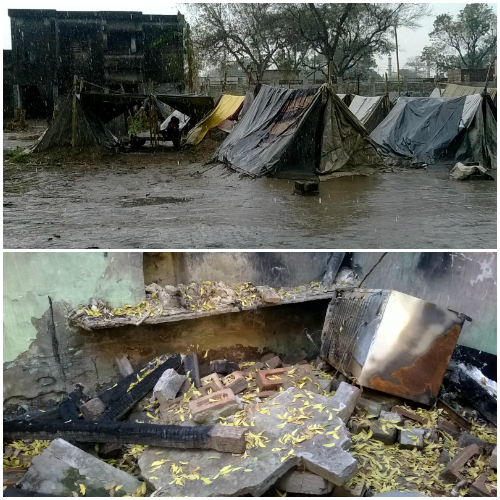 The Akhilesh Yadav-led Samajwadi Party (SP) government in Uttar Pradesh has sought to downplay what many have called "deplorable conditions in the refugee camps where the Muzaffarnagar riot-hit stay," calling it opposition propaganda. Now, a team of Tata Institute of Social Sciences (TISS) students, who have spent a month at the camp, have come out with a damning report and sent it to the chief minister.Shivani Saria, one of the six students in Masters of Social Work (Public Health) told dna, "We knew the conditions would be bleak from news reports, but nothing could prepare us for the horrors we witnessed. It is appalling to see the condition of infants and their mothers who are struggling against infection and disease in the absence of any health service whatsoever."
The students, working with the riot-hit in the camps of Loi, Juwala, Shahpur and Bansikala in Muzaffarnagar under Joint Citizen's Initiative (JCI), a collective association of five NGOs — Astitva (Muzaffarnagar), Sanath Kada (Lucknow), Humsafar (Lucknow), Vanangana (Chitrakut) and Nirantar (Delhi) — working in the camps, say the administration has abdicated.
"At the collectorate, education officer KK Singh and local Samajwadi Party office-bearers kept asking us how we could help canvass for the SP," Saria recalled.
Students say, in the face of apathy from the district administration, they were forced to write to Yadav. "Most riot-hit are living in extremely poor conditions in tents that hardly provide protection in the changing weather," reads the letter. "The surroundings are very unhygienic with no sanitation. Mosquitoes and flies are spreading disease like diaorrhoea, skin infections and upper respiratory tract infection. Young children and elderly are the most vulnerable."
The lone primary healthcare centre at Budhana claims to organise mobile health camps at Jaula camp regularly, reads the letter, which points out that the claims are just that."Most people complain about the attitude and behaviour of the health personnel in the government health facilities like the Health Sub-Centre (HSC) and Primary Health Centre (PHC)," reads the letter which adds, "In Budhana and Shahpur, female doctors don't respond appropriately to urgent needs of the women like pregnancy, delivery, reproductive tract infections."
The students found the Budhana PHC understaffed despite large number of people flocking there for treatment constantly. "With only two female doctors, many women don't seek treatment for their sexual and reproductive health issues. There's only one pharmacist and the no immunisation officer.
On education too, the letter raises several concerns, "The new students from camps haven't received uniforms, stationery and scholarships. They find it difficult adjusting as they face criticism from other students and teachers and they don't feel accepted. The teachers in Juwala village school seem to be reluctant to accommodate them."
It raises several livelihood concerns about camp-dwellers. "Most riot-hit worked as hawkers, masons or farm labourers. Now rendered homeless and jobless, they've no resources to start afresh." It further points out, "Even those willing to work can't, as they are scared to leave their families alone and go to work."
"The state government," the letter points out, "claims only nine villages were riot-hit and and only these villagers have received meagre compensation. Others have been forgotten." It mentions Hasanpur, a cluster from Lisaad village, completely excluded from any survey and, hence, compensation.
Raising questions on safety and security, it reads, "The camp residents fear anybody could enter the camps and harm them. Such fear seems to be greater among those who have lodged complaints against perpetrators."
When reached for comment, the UP CMO said, "Our hands are tied because of the election model code of conduct is in place." TISS faculty in-charge Brinelle D'Souza of the Centre for Health and Mental Health, School of Social Work, TISS wondered, "How can matters of such urgent public interest be on hold because of the model code of conduct?"