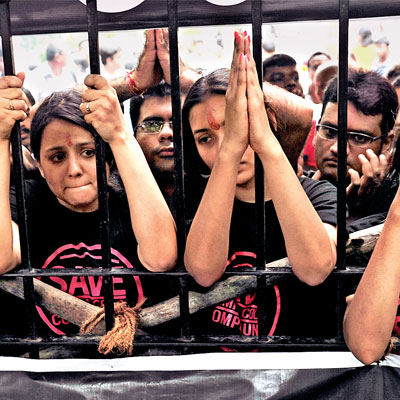 The Brihanmumbai Municipal Corporation (BMC) and the city police went slow on Friday, the first day of the former's drive to demolish illegal flats in Worli's Campa Cola Compound. They didn't cut gas and electricity connections, citing resistance by residents.
BMC said disconnecting electricity and gas supply to unauthorised flats could not be undertaken as the residents blocked entry points to the buildings and refused to budge despite a Supreme Court (SC) order in this regard, amounting to contempt.
The SC had last February instructed BMC to bring down the 96 illegal flats in the compound observing FSI violations.
BMC on the first day tried to carry out a 'peaceful demolition' by engaging residents in a dialogue, but there was no response on their part, civic officials said.
"We did not want any confrontation. But the residents refused to allow us to enter the premises peacefully. We appealed to them that BMC must follow the SC order, but in vain," deputy municipal commissioner Anand Wagralkar, who headed BMC's drive at the spot, said.
While the civic body said it will rework its strategy to go ahead with the drive on Day two, it stressed its every effort to have a dialogue with the residents failed. "When we came here for demolition at the designated time (11.30am), residents had already blocked gates. Despite requesting them to let us enter, they were defiant. So, we left the spot for some time to rework our strategy. We asked representatives of the residents' associations to hold parleys with the illegal occupants, but it didn't yield any result," Wagralkar said.
BMC, however, warned that it will take action against anyone who tries to oppose its drive on the second day, or whenever it returns to demolish the flats, under section 353 of the Indian Penal Code.
A senior civic official said the more residents resist BMC's drive, the more complex their case will become. "May-end was their deadline to vacate flats. BMC gave them time to hand over keys twice. They refused. Now, they are opposing the demolition drive. But if BMC stops the drive, it too will invite the court's contempt. That's why it is likely to be aggressive on Saturday," the official said.
Meanwhile, the residents remained firm. "The civic officials came to us saying they have to follow SC order. They are doing their job. But we can't ask the agitating flat owners to give up their homes," Ajay Mehta, a resident, said.
The residents, however, said there were no instances of harassment on part of the police after the occupants called on city police chief Rakesh Maria. "The police did harass some residents in the run-up to the drive. But, after we met Maria, the problem was solved," a resident of Mid Town Apartments said.
Earlier in the day, the residents performed hawan at the entry points of the compound buildings. Unlike the previous occasion, they did not block the gates by parking cars. The protest wasn't as aggressive as it was last November when BMC undertook the drive. This change could be attributed to the communicative approach BMC adopted until Friday. However, the residents said they will heighten the protest if the corporation tries to 'muscle' its way