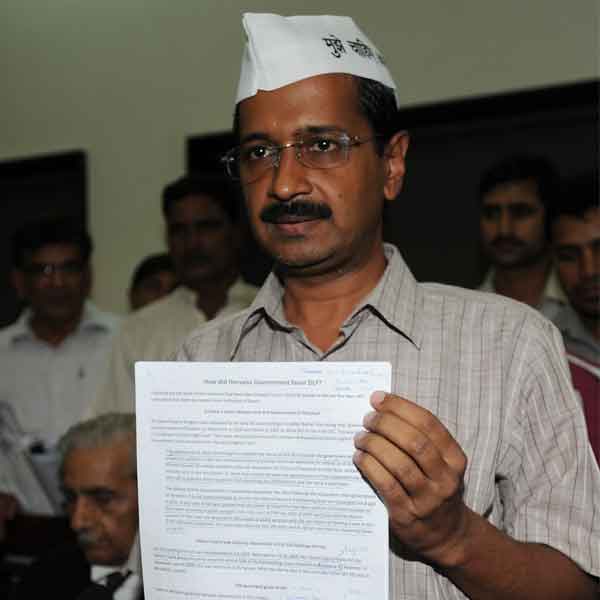 Delhi Chief Minister Arvind Kejriwal's tumultuous 49 days in office may have ended on an unceremonious note for some, but not before he again rekindled the alleged issue of corruption, both in the government and in the corporate sector.
His resignation, triggered by his failure to introduce the Jan Lokpal Bill in the Delhi Assembly, comes amid speculation that he has a bigger agenda in mind - that of taking his anti-graft campaign nation-wide.
His Aam Aadmi Party is already contesting more than two-thirds of the seats that will be up for grabs during the general elections in spring.
Be that as it may, the circumstances under which he has quit office, has raised serious question marks over various entities.
Kejriwal's alleged long-standing confrontation with the Ambani brothers has already put their respective Reliance companies in a tight spot, repeatedly accusing them of influencing the current administrative system to land key projects and allegedly acquire huge sums of money.
After his direct salvo at Anil Ambani, blaming his group's distribution arms - BSES Yamuna and BSES Rajdhani - of blackmail, the former Delhi chief minister has figuratively trained his guns on Reliance Industries Chairman Mukesh Ambani, and incumbent policy makers over gas pricing.
"We have instructed the anti-corruption branch to file a criminal case against Murli Deora, FIRs against Veerappa Moily, V.K. Sibal, the (then) director general of hydrocarbons, Reliance Industries Ltd Chairman Mukesh Ambani and others," Kejriwal said at a recent news conference before his resignation as chief minister.
Kejriwal has allegedly claimed that Ambani's company had created an artificial shortage to "blackmail" the government to set higher prices. He also branded the elder Ambani as the capitalist master to Congress and the BJP's politicians.
Eminent lawyer and senior AAP leader Prashan Bhushan said that he has filed fresh applications before the courts to deliberate on the cases involving the Ambanis.
He said the cases relate both to the illegal hike in price for extraction of oil from the Krishna Godavari Basin, and to alleged reports of money laundering via HSBC.
On the other hand, reports suggest that Anil Ambani is no stranger to controversy, and that the discom dilemma may be just another business-linked blip that needs sorting out.
In mid-2012, Anil Ambani was one of the primary names revealed allegedly by Kejriwal as one of the influential Indians having beneficiary accounts in HSBC, Switzerland.
HSBC was then accused of money laundering, but a spokesperson for Ambani said on record said that there were no bank accounts with HSBC in Geneva in his name.
Although the matter has lost much of its implication with the passage of time, recent documented accounting revelations tell a different story. Account details allegedly establish a commercial link between the Anil Dhirubhai Ambani Group (ADAG) and a firm called 'Flag Telecom' between December 2004 and August 2007
According to information available, commercial transactions allegedly in the region of Rs.100 crores may have taken place, and it is also a figure that Kejriwal has also alleged earlier.
What, however, is at issue is whether these reported and alleged transactions were fully compliant with established government regulations and were disclosed in a timely manner before appropriate jurisdictions? Only investigations can reveal this.
Bhushan also said that details related to the business malpractices of the Ambanis are already in the public domain, and added that Ambani is on record as telling Nira Radia of 2G scam fame that, " both Congress and BJP are in his (Ambani's) pocket".
The Indian Government has received a detailed list of people with beneficiary accounts in HSBC, Switzerland from the French authorities, and has reportedly used this information to impose additional taxes on people it suspects of hoarding money in unofficial overseas accounts.
It is being alleged that ADAG or Reliance have managed to avoid this scrutiny, and some say that this has allegedly been made possible due to political pressure.
Flag Telecom is allegedly said to be an international subsidiary of ADAG; and several names have been listed as having carried out business transactions worth millions of dollars. Therefore, a company spokesperson denying the existence of the alleged HSBC account abroad, suggests an attempt by ADAG-Reliance to conceal possible, but yet to be proved financial transgressions.
In 2011, Reliance Infrastructure and Reliance Natural Resources, both companies controlled by Anil Ambani, reached a settlement with the stock market regulator for alleged violations of foreign investment norms.
Later in the same year, Reliance Securities, also part of the same group, reportedly settled another case related to violations of rules regarding brokerages.
Controversy and fiscal problems are part of any business, and ADAG and Anil Ambani will need to find a way to absolve themselves of all these allegations; and ensure a resurrection of a brand name that has taken several hits over the last few years.