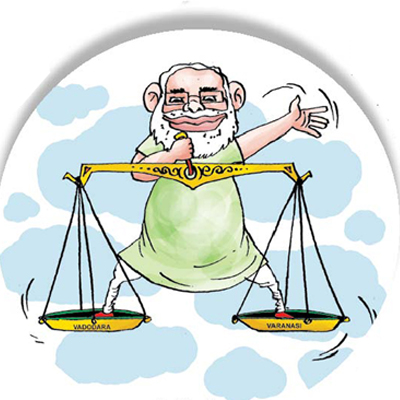 With the general elections looming large over the country, the political scenario is intense and aggressive. Political figures across the nation are gearing up for the rat race and everyone seems to be determined to win the race. All the political parties are in the fray to win majority of the seats out of the total 543 seats in the Lok Sabha.
And in this battle for gaining a majority, there are some candidates who are fighting from, not one, but two seats. Contesting from two constituencies in the Lok Sabha elections of 2014 are candidates like Narendra Modi (BJP), Mulayam Singh Yadav (Samajwadi Party) and probably Rahul Gandhi (Congress) as well. Narendra Modi would be contesting from Varanasi (Uttar Pradesh) and his home-turf Vadodara (Gujarat). Similarly, Mulayam Singh Yadav will be fielding from Azamgarh and Mainpuri, both in Uttar Pradesh. Rahul Gandhi is likely to contest from Amethi in Uttar Pradesh and one yet undecided constituency in South India.
While there is much debate going on over candidates contesting from two constituencies, it is very much legal to do so. According to Section 33 of the Representation of the People Act of 1951, a person shall not be nominated as a candidate for an election for more than two constituencies, be it general elections/biennial elections and bye-elections for the House of People, Council of states, Legislative Assembly of states or Legislative council of states.
If a candidate emerges victorious from both the constituencies, then he has to give up on one of the two seats. And, "unless within the prescribed time he resigns all but one of the seats, all the seats shall become vacant", as per Section 70 of the Representation of the People Act of 1951.
This is however not the first time that some candidates are battling for two seats. Even in the past, there have been some instances of the same. In 2009, Akhilesh Yadav of Samajwadi Party, the present chief minister of Uttar Pradesh, contested from Ferozabad and Kannauj. He relinquished Ferozabad and kept Kannauj. Mulayam Singh Yadav contested from Sambhal and Kannauj in 1999 and won both the seats. He ceased the Kannauj seat from where his son Akhilesh Yadav made his maiden win in the bye-elections.
Also, Lalu Prasad Yadav fielded from two constituencies Chapra and Madhepura in 2004.
In 1999, Sonia Gandhi had also fielded from two constituencies Amethi in UP and Bellary in Karnataka. After winning at both the places, she relinquished Bellary and retained the Amethi seat. The same story repeated in 2004 when she contested from Amethi and Rae Bareli. However she
held on to the Rae Bareli seat and gave up Amethi for her son Rahul Gandhi.
Going back into the history, in 1980, Indira Gandhi contested from Medak in Andhra Pradesh and Rae Bareli in UP. She held on to the former after her victory in both the constituencies and decided to abandon the Rae Bareli seat.
Now the question is, why is it that candidates contest from two constituencies? One reason might be that they are unsure about one seat and to book a place in parliament, they contest from another seat of which they are confident. So one seat is undoubtedly safe to fall back upon, if they lose the unsure one, and if the fortune smiles upon them, they may even win both of them. You can call it a back-up plan. The other reason, probably, can be that winning from both constituencies can give them an opportunity to boast about their capabilities to win from even outside their home-turfs.
There are many views and counter-views about whether it is morally correct and justified to have such a provision in the constitution. People against it feel that it is just a mockery of democracy and that it just serves the politicians' interests. On winning both the seats, one seat has to be relinquished and that the bye-elections happen at the cost of taxpayers' money. While the counter-views suggest that it provides flexibility to the candidates in the complicated scenario of vote-bank calculations.
What people think about one candidate contesting from two seats?
Key figures in Politics are contesting from two places to confirm their win at least from one place and it is a do or die battle.

— Amjad. (@hkhaja02) March 19, 2014
#electioncommission should also stop candidates from contesting from two places. It is unfair to other candidates.

— Manoj Mehra (@ManojMehra2610) March 20, 2014
Why is the concept of one candidate standing from two seats not unconstitutional yet?

— Karan Anshuman (@krnx) March 23, 2014