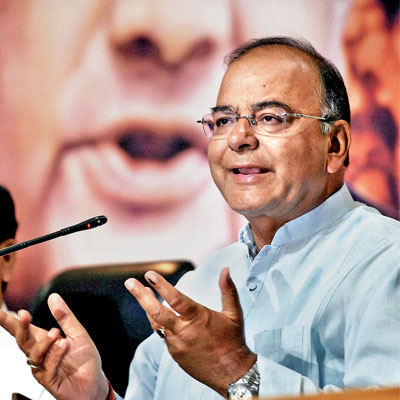 "It will be the right of the new government not to recognise as legitimate the decisions of the UPA goernment taken in the 10 days left of the 10-year unsuccessful government," said BJP senior leader Arun Jaitley, back from his Amritsar electoral battle, here on Friday.
He pointed to the appointment of information commissioners, and filling up the quorum for the Lokpal search panel, and the attempt to find a judge for the Snoopgate commission. "The BJP is strongly opposed to these moves. It is the responsibility of the bureaucrats to advise the government not to take decisions which have a political bearing," he said.
Reviewing the seven-phases of the election that got over and looking forward to the remaining two, due on May 7 and 12, he said the election was a "single horse race" where the front-runner turning around could not spot the second."
He dismissed the Third Front as a "failed idea" and as a rag-tag coalition which will be a "charter for chaos." There is no change in campaign strategy, but the party has produced new television spots showing Narendra Modi declaring on the day he filed nomination in Varanasi that "he (Modi) was not sent by anyone to Varanasi nor did he come on his own, but it was the call of the Ganga that brought him." The background commentary in the television spot also used the word, "Ganga-Jumni tehzeeb", a favourite word of the liberals and secularists, as the essence of the place.
BJP soruces later elaborated on Jaitley's comment of a "one-horse race." They said that if BJP were to get 220 seats and the Congress lingered at 75 or 80, the distance between the two is so vast that it remains an unbridgeable gulf, and this is what amounts to a single-horse race.
The BJP is also going to make a big effort in party candidate Smriti Irani's campaign because the party believes that the Rahul Gandhi campaign has lost focus because his team was unnerved. The feeling in the BJP is that if the Congress had stuck to the theme of Rahul Gandhi as a leader, then they could have hoped for success. But now the statements coming from the Congress camp are stray and therefore the campaign has gone astray. It believes that with a determined push there is a possibility of Irani pulling off a victory.