FM Nitin Patel thanked Modi for guiding them all these years and for putting Gujarat on the path of development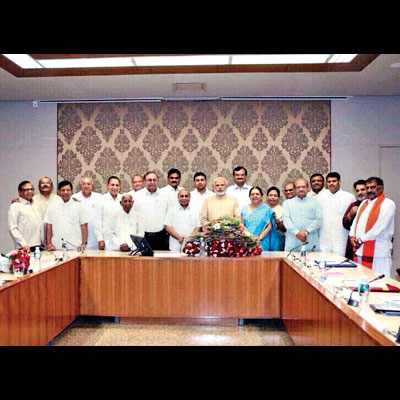 Narendra Modi — chief minister of Gujarat for over 12 consecutive years now and who looks set to become the country's next prime minister — was given an informal farewell by his colleagues in the state cabinet on Wednesday.
Finance minister Nitin Patel, the No 2 in the Modi cabinet, said that just before the formal proceedings of the cabinet meeting commenced, he spoke on behalf of his ministerial colleagues and thanked Modi for guiding them for all these years.
"I told Narendrabhai that he has run a very successful government for 13 years. He has placed Gujarat on the path of development. He has greatly enhanced the reputation of Gujarat and Gujaratis because of his performance as chief minister. We thanked him for ably guiding us all these years. We also extended our best wishes to him for similar performance as the country's prime minister," Patel, who is believed to be one of the contenders for succeeding Modi as the chief minister, told reporters after the cabinet meeting.
According to insiders, the cabinet meeting, which takes place every Wednesday, are generally business-like affairs. However, Wednesday's meeting, which will most likely be Modi's last as chief minister, was an emotional affair with a senior minister saying that some of the ministers as well as Modi himself became quite emotional.
"It is quite natural for us to be emotional. We have worked closely with him for more than 12 years in the government. For many, the association dates back to over a quarter, during which we have seen victories and defeats, and several ups and downs. It is a matter of pride for all of us that someone we have worked so closely will be leading the country," said state's education minister Bhupendrasinh Chudasama.
Modi took over as Gujarat chief minister on October 7, 2001. With tenure of 12-and-a-half years — i.e. over 4,600 days — he is easily the longest serving chief minister of the state and among the longest serving CMs in the country. He is believed to have presided over more than 500 cabinet meetings in these years.
Patel said that the CM expressed his gratitude to the entire cabinet in response to their best wishes to him. He added that this was the first time a CM in Gujarat has been given this kind of farewell.
Later, every minister had himself/herself photographed along with the chief minister, which was followed by a group photo of the entire cabinet.