Agitations and protests at BJP's offices to protest ticket distribution is facade, say insiders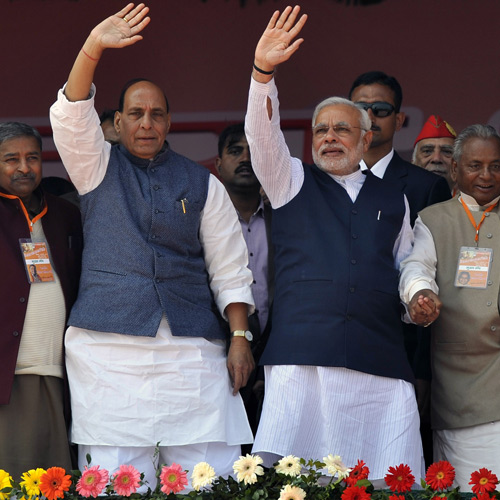 BJP president Rajnath Singh's effigies have been burnt by angry BJP workers at over half a dozen places across Uttar Pradesh in the last few days. From Ghaziabad, just outside the national captial in western UP to Ghazipur in eastern UP, a wave of intense anger and resentment against the party leadership is sweeping through the party's rank and file over the haphazard distribution of tickets in the state for the upcoming Lok Sabha election. The candidates' list released on Wednesday only added fuel to the fire.
BJP workers have sat on a dharna outside their own party office in Allahabad staged demonstrations outside the BJP office in New Delhi and Lucknow in the last couple of days.
Privately, some party leaders say that this is part of Rajnath's conspiracy to arrest the march of BJP's "Mission Modi" in UP. "He (Rajnath) wants the final party tally not to cross 170 or 180. This would brighten his own chances of becoming PM. For, he knows that if BJP wins 200 plus seats, Modi will be the unquestioned king," said a senior leader, speaking on condition of anonymity.
However, senior BJP leaders are in denial. "There is no revolt or resentment as being projected in the media," said senior party leader Kalraj Mishra. "Display of discontent at some places is common before every election in every party as supporters of leaders denied tickets are disappointed," he said, adding that things will be normal in a couple of days.
But senior leaders like Surya Pratap Shahi (Deoria) and Swami Chinmayanand (Jaunpur) have already declared their intentions to contest as independents after being denied party tickets. Shahi's supporters burnt Rajnath's effigy in Deoria after news spread about Kalraj Mishra being made the party's candidate there.
Grass-root party workers as well as some state-level leaders are severely cut up over "outsiders" being given Lok Sabha tickets. On Tuesday, party workers burnt the effigy of Jagdambika Pal, the incumbent Congress MP from Domariaganj, at the BJP office in Lucknow. Pal has joined the BJP and has got the ticket from Domariaganj.
Party workers in Mathura raised slogans against the party leadership on Wednesday after Hema Malini's candidature from the seat was declared on Wednesday. Similar reactions were reported from Allahabad, Kaiserganj and Gonda, too. In all these three seats, former SP MPs, SC Gupta, mafia don Brij Bhushan Sharan Singh and Kirti Vardhan Singh respectively, have been made party nominees.
Similarly, BJP workers from Bijnore in west UP staged a demonstration at the party headquarters in New Delhi in protest against a rank "outsider" Rajendra Singh. Gen (retd) VK Singh is getting the same reaction from party workers in Ghaziabad.
There is also anger among the party cadre over denial of ticket to party MLAs Sangeet Som and Suresh Rana who were jailed in connection with the Muzaffarnagar riots.