Power minister Shobha Karandlaje said the round-the-clock call centre's capacity to handle the calls is also being upgraded from the now 25 people manning it to 45.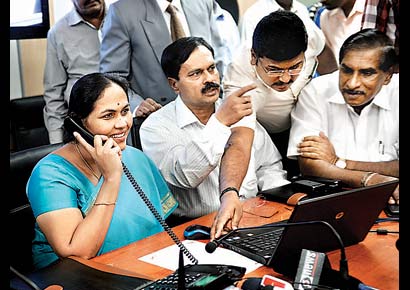 Now, women in distress can call not only the police helpline number, but also the Bescom call centre to seek help. The electricity board's helpline is getting the facility to route calls to the police control room. If they find themselves in an uncomfortable situation, women can call the Bescom helpline at 22873333 and seek help. Power minister Shobha Karandlaje announced this at a press meet on Wednesday.
The call centre's capacity to handle the calls is also being upgraded. Karandlaje said until now, 25 people were manning the call centre and their number would be increased to 45. The helpline will work round the clock.
Further, the helpline has a capacity to receive more than 6,000 calls per day. Currently, it receives about 1,000 calls a day and this expansion will help in optimum utilisation of the helpline. "With 25 lines, we can route calls directly to the police. If that is not happening, we can also alert the 155 teams working for Bescom who can help the person in distress as they cover the entire city," said Bescom managing director P Manivannan.
The minister also launched the online application system for industrial and commercial consumers who come under the high-tension connections. "To avoid inconveniences and bring in transparency in the system, this has been introduced. It also speeds up the process of application and thereafter connection. Earlier, industries used to be set up in Hosur area as applying and then getting power in Karnataka was a big ordeal. With the power situation worsening in Tamil Nadu, they are moving to Karnataka and we are happy about it. With this system, we hope to get more industries in the state," Karandlaje said.
Applicants can log on to www.bescom.org/htapp/ and register. Through this, applicants can also make payments.
For industrial consumers, who bring Bescom more than 50% of revenue, a separate cell has been introduced. "The Federation of Karnataka Chamber of Commerce and Industry has been asking us for this. Any issue regarding the industries can be sorted here," the minister said.