February is more than just Valentine's Day; it's also being observed as a global day of book sharing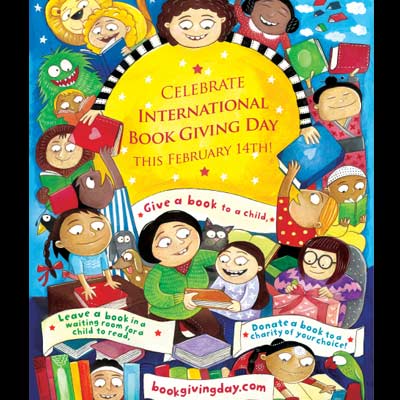 Even as the world comes together on a day set aside to celebrate love, what better way to express your love than to give a book.
Following a global trend of sharing books with loved ones and strangers alike, many Indians will be participating in the International Book Giving Day, which quite strategically coincides with Valentine's Day, celebrated world over on February 14.
"International Book Giving Day's focus is on encouraging people worldwide to give a book to a child," explains their website.
How does it work?
We invite individuals to either give a book to a friend or family member, or leave a book in a waiting room for children to read, or donate a gently-used book to a local library, hospital, shelter or to an organisation that distributes used books to children in need internationally," they explain.
And in that spirit, they provide a list of non-profit organisations across various nations where interested book lovers can donate old and new books for the benefit of the underprivileged children. And Indian non profit publishing house Pratham Books will be organising the event from India with hopes to encourage reading among children.
"International Book Giving Day approached us in 2012 to see if we could participate in the movement they were starting with others. We thought it was a fantastic idea and put out a call on our blog - inviting organisations to tell us more about the books they needed," narrates Maya Hemant Krishna, digital community manager at Pratham Books, that publishes various titles in English and ten other Indian languages, most of which are priced below Rs 35.
Pratham Books then curated a list based on the responses they received from various organisations and invited their community to directly donate to them. For the following year, 2013, as well, they identified four organisations, one in Andhra Pradesh, two in Ladakh and one in West Bengal.
"We created language book packs which the community could choose to donate to an organisation of their choice. The campaign that ran from February 14 till the end of February, managed to send 1500 books in totality to all the organisations," shares Krishna.
The now increasingly popular trend saw the celebration of 'Book Giving Day' across 30 countries last year. People have been pro-actively promoting their participation across social media, sharing pictures and updates from their activities with the hashtag #GiveABook:
Busily getting ready for @bookgivingday! So excited to participate & #giveabook to each of our church kids! #literacy pic.twitter.com/Rh3lSDiW4K

— Elizabeth Gaskins (@LovelyLizzie10) February 11, 2014
Ahhh, the gift of chocolate. Hope you enjoy your Valentine's Day but hope you enjoy @bookgivingday more! #giveabook pic.twitter.com/80FBo5hW2e

— The Kids' Bookshop (@TheKidsBookshop) February 13, 2014
Will you #GiveABook for @bookgivingday this 2/14? We dropped off books at the @LtlFreeLibrary inside @WestsideJCC! pic.twitter.com/87Y4Ia0CHQ

— KOREH LA (@KOREHLA) February 12, 2014
A picture paints a thousand words. Love this! Guest post from the @IndigenousLF #giveabook http://t.co/O7Fl6r0xpD … pic.twitter.com/LvxNIA8Iiv

— bookgivingday (@bookgivingday) February 10, 2014
Post by Children's Books Daily.
Getting ready to share some book love tomorrow. #newfrontier #giveabook pic.twitter.com/ejMrDUqxVI

— Sophia Whitfield (@whitfieldsophia) February 13, 2014
Commenting on how collaboration allies with their ideology of 'a book in every child's hand' Krishna said, "At Pratham Books, we are always open to ideas which help us get more books into the hands of kids; from licensing our content under open licences to getting audio books recorded. This initiative allowed us to harness the power of our incredible community and link them with organisations whose work we love."
To participate and pledge your support, or for ideas on how to celebrate the International Books Giving Day, visit www.bookgivingday.com