Opposition candidate Narendra Modi thundered to victory on Friday in the general election, with partial results showing that the pro-business Hindu nationalist and his party trounced the ruling Nehru-Gandhi dynasty in a seismic political shift.
Modi's landslide, the most resounding election victory India has seen in 30 years, was welcomed with a blistering rally on India's stock markets and raucous celebrations at offices across the country of his Bharatiya Janata Party (BJP), where supporters danced, exploded fireworks and gave out sweets.
The BJP looked certain of a parliamentary majority, giving the 63-year-old former tea-seller ample room to advance economic reforms which were started 23 years ago by current Prime Minister Manmohan Singh but stalled in recent years.
Singh's Congress party suffered its worst ever wipeout, a big boost to Modi's goal of ending the dominance of the Nehru-Gandhi family that has governed for most of the 67 years of independent India.
Singh, whose party looked set to win less than 50 of the 543 parliamentary seats at stake, congratulated Modi with a telephone call.
Crowds surged around Modi's car after he visited his mother's home in Gujarat, where he has been chief minister since 2001.
He sent a message saying "India has won" that instantly set a record as the country's most retweeted Twitter post.
The desire for change has been so strong that voters put aside concerns about Modi's Hindu-centric politics.
"I'm so happy because all of India wanted a strong government," shouted software engineer Vinod Rai at the BJP's Delhi headquarters. Rai echoed the sentiments of millions of Indians who bought into Modi's promises of job creation and economic growth to satisfy a bulging youth population.
With more than six times the seats of its closest rival, Modi's is the most decisive mandate for a leader since the 1984 assassination of prime minister Indira Gandhi propelled her son to office. Since 1989, India has been governed by coalitions.
The BJP had already won or was winning in 283 seats in parliament, counting trends showed, comfortably across the halfway mark of 272 required to rule. An alliance led by the party was ahead in 338 seats, TV channel NDTV said.
Meenakshi Lekhi lone female candidate elected to Lok Sabha from Delhi
NDA: 332
UPA: 58
Others: 152
Live Updates:
* Shunning Narendra Modi a grave mistake for US, says Democrat lawmaker, congratulates India's PM-designate
"Today is a victory for India", said influential Democratic lawmaker Eni Faleomavaega. Saying that the US had made a huge mistake in shunning Narendra Modi for over a decade, an influential Democratic lawmaker Friday congratulated the Bharatiya Janata Party (BJP) leader on his historic win.
* Muslim leaders hope BJP will focus on economic development
* Nawaz Sharif congratulates Narendra Modi
* Celebrities welcome Narendra Modi, hail new wave in Indian politics
* ALSO READ: Why do liberal intellectuals hate Narendra Modi?
* As the Narendra Modi-led BJP won a decisive mandate in the Lok Sabha elections, China today said it is willing to work with the new Indian government to take their bilateral strategic partnership to a new height. Read more
* Narendra Modi arrives in Vadodara, addresses a cheering crowd
* There are no enemies in a democracy. Yes there are rivals but this is the beauty of a democracy:
* I congratulate leaders of all parties and I am sure together we will be successful in taking the nation ahead
* There would not have been a Dr. Babasaheb Ambedkar, if there was no Gaekwad, says Modi
* "Sabka Saath,Sabka Vikas" is the mantra for our work
* Four times you gave me the opportunity to serve as the chief minister, not once did I take a vacation
* This verdict is about taking the nation forward and working hard for the dreams of the people
* A government does not belong to any party, but to the nation. It does not belong to few people but each and every Indian
* You have placed your faith in me. I have full faith in you. The people of India hit a triple-century today
* We never had the honour to die for the nation. But we have got a chance to live for 'Surajya'
* This isn't the time to die for the nation, rather a time to live for the nation
* Be it Congress or BJP, in this election the leaders were those who have been born in a free India
* Ours is a party that has fought Congress and believed in patriotism and it has been able to secure blessings of people
* After independence, whenever there has been a non-Congress government, it has been a coalition. First time after independence that a party other than the Congress has got a clear majority
* There were 7 by-polls in Gujarat where 6 were with Congress. Today BJP has won in 4
* Grateful to the people of Gujarat for giving us 26 out of 26 seats, says Modi
* Gujarat has a record to its credit- 26 out of 26. When we used to talk about this people laughed, says Modi
* If we hadn't got all 26 seats in Gujarat the media would have criticised the BJP, says Modi
* Vadodara created a new record in the history of general elections in India with a victory margin of 5.7 lakhs: Modi
* Vadodara has shown to the nation what is possible in term of governance: modi
* In the history of elections such a margin has not happened in a General Election. I am not talking about any by-election
* First time in history of India a candidate was not allowed to reach to his people, but the people of Varanasi put a stamp of victory on my silence anyway
* Each and every voter gave me so much affection. You all worked as if you are Narendra Modi
* This place has first right on me
* You have elected me with a record margin from here. Even though, after filing nomination from Vadodara, I could only give 50mins here,but you gave me apprx 5,70000 votes, salute you all in Vadodara
* The entire media wanted me to say something since morning, but I wanted to come and speak only in Vadodara, says Modi
* Bangladesh Premier Sheikh Hasina congratulates Narendra Modi, invites him to visit
* Pakistan Prime Minister Nawaz Sharif congratulates Narendra Modi on his landslide victory
* Many in India tune it to Narendra Modi, others protest
* Ramkripal yadav of the BJP defeats Misa Bharti of the RJD
* Milind Deora congratulates Narendra Modi on BJP attaining a majority
* AAP emerges in Punjab, BJP gains in Haryana, Chandigarh
* BJP leader Rajiv Pratap Rudy wins from Saran by defeating Rabri Devi
* There were 7 such states where Congress didn't even reach a two digit mark, not even number 10 in any state, claims Amit Shah.
* We have broken all records in UP and BJP has won or is leading in 73 of the 80 seats, says Amit Shah
* The coming days will see a change in the Indian politics, says Amit Shah
* With all humbleness we accept the verdict of the people, says Sonia Gandhi. We hope that the new Govt will not compromise on the country's unity and integrity
* I congratulate the new government and wish them all the best. I hold myself responsible for this defeat, says Rahul Gandhi. We respect the mandate given by the people
* I congratulate Kirron Kherji, am sure she will work for Chandigarh. Also congratulate Narendra Modi and BJP/NDA, says AAP's Gul Panag
* Telegu Desam Party Leader N Chandrababu congratulates Narendra Modi on landslide win
*Sri Lanka President Mahinda Rajapaksa congratulates Narendra Modi, invites him on state visit
* Expelled BJP leader Jaswant Singh loses in Barmer, Rajasthan to BJP's Col Sona Ram
* Rajnikanth congratulates Narendra Modi on Twitter for historic win
* Manmohan Singh congratulates Narendra Modi, to resign on Saturday
* British PM David Cameron tweets congratulatory message to Narendra Modi
PM: Congratulations @narendramodi on victory in India's elections. Keen to work together to get the most from UK-India relationship

— UK Prime Minister (@Number10gov) May 16, 2014
* Sushma Swaraj credits poll win to BJP workers first, Narendra Modi later
* AAP's Kumar Vishwas congratulates Narendra Modi​
Congrats @narendramodi led BJP on citizen's verdict in their favor. Hope his team stands up to the needs and expectations of Bharat Mata.

— Dr. Kumar Vishvas (@DrKumarVishwas) May 16, 2014
* BJP's Bappi Lahiri loses from Sreerampur loses to Kalyan Banerjee of TMC
* I have full faith that under Narendra Modi's leadership we will be able to fulfill our dream of a successful India
* BJP won with a clear majority. In independent India, BJP is the the only party that has managed to grow in stature as Congress.
* BJP has encompassed religion, region, race, social and geographical boundaries to achieve success
* People's mandate has won
* BJP parliamentary board made the right decision by selecting Narendra Modi as the prime ministerial candidate. He has worked very hard.
* We believe that poll results will usher a new era for India. Read more
* Poonam Mahajan on winning from Mumbai North Central, said, " I was told this is congress stronghold. I thank the almighty, my late father Pramod mahajan who will always remain with me and my biggest inspiration. I expected to win but such a huge margin is something which I want to thank my constituency members. This time it was not about vote bank but only about development and good governance. I thank my senior leaders for the support and guidance and this mode wave will continue during the assembly elections.
* Shatrughan Sinha wins from Patna Sahib
* DMK accepts defeat with bowed head: M Karunanidhi
* Don't use any provocative slogans, let celebrations be peaceful, says Rajnath Singh
* Stating that the BJP won the election on the issues of corruption, bad governance and dynastic rule, BJP veteran LK Advani said the role of Narendra Modi and the RSS in the party's victory has "to be assessed". Read more
* Arun Jaitley misled by Shiromani Akali Dal on contesting from Amritsar: Amarinder Singh
* O Raja Gopal loses to Shashi Tharoor in Thiruvananthapuram
* BJP leader Giriraj Singh, accused of using hate speech on multiple occassions, has won Newada, Bihar, defeating RJD's Raj Ballabh Prasad. Singh has said that all critics of Modi should go to Pakistan.
* BJP's Jatindra Singh defeats Ghulam Nabi Azad in Udhampur
* Outgoing External Affairs Minister Salman Khurshid says the UPA government has done "outstanding work" in the field of foreign policy and is leaving India's relations "in fairly good condition" that the future government can look forward to. Read more
* BJP's Smriti Irani trails behind Rahul Gandhi in Amethi
* Ajay Agarwal loses to Sonia Gandhi in Rae Bareily
* BJP's Maneka Gandhi wins Pilibhit
* Yogendra Yadav defeated by Rao Inderjit Singh in Gurgaon
* The BJP made a stunning comeback in Uttar Pradesh as it surged ahead in 67 of the total 80 Lok Sabha seats in today's vote count in the state. Read more
* BJP appeared set to wrest all seven Lok Sabha seats in the national capital from the Congress, with the AAP in the second spot and the Congress at a poor third. Delhi Bharatiya Janata Party (BJP) chief Harsh Vardhan was leading by more than 52,000 votes in Chandni Chowk over AAP's Ashutosh. Read more
* AAP congratulates Narendra Modi
* BJP's Arun Jaitley loses to Capt. Amrinder Singh. Social media reacts to Arun Jaitley's loss in Amritsar
* Narendra Modi's oath-taking ceremony expected to be on May 21, Manmohan Singh to resign at 12:30 pm on Saturday.
* BJP's Maneka Gandhi leads in Pilibhit seat by 159083 votes
* Veteran Bharatiya Janata Party (BJP) leader Lal Krishna Advani was seen glued to the television set, watching the counting of votes.Read more
* Biju Janata Dal (BJD), which looks to sweep Lok Sabha polls in Odisha, said that it has not received any invite to join the BJP-led NDA government at the Centre. Read more
* Narendra Modi all set to be prime minister, BJP to get majority on its own
Narendra Modi appears all set to be the next prime minister with BJP likely to get a majority on its own, wresting power from Congress which is on the path of recording its worst ever performance in the Lok Sabha polls. Recording its best ever performance in its 34-year existence, the BJP on its own was leading in 276 seats, three more than the required half-way mark in the 543-member House, while its allies were ahead in 49 seats.
* Sushma Swaraj wins by 3.25 votes in Vidisha. This is a huge win, its even bigger than what happened in 1977, said Sushma Swaraj
* BJP's Khandwa candidate Nandkumar Singh Chouhan wins.
READ: All Modi's Men: The team behind the brand 'Narendra Modi'
* Narendra Modi and president Rajnath Singh today congratulated N Chandrababu Naidu on the TDP's spectacular performance in Andhra Pradesh Assembly and Lok Sabha polls. Read more
* After winning, Narendra Modi meets her mother. Touches her feet and gets her blessings.
READ: How BJP's exhaustive campaign translated into a win for Narendra Modi
* BJP leads from 4 seats in Himachal Pradesh
* BJP marches ahead in 18 constituencies in Karnataka, Congress in 8.
BJP prime ministerial nominee Narendra Modi has won from Vadodara in Gujarat by a record three lakh votes over his nearest rival, Congress leader Madhusudan Mistry. Read more
* BJP leads in 272, Congress in 51
* As the BJP seems set to win in what may be the Congress' worst defeat in years, the Arvind Kejriwal led Aam Aadmi party seems to have garnered a decent number of votes. 3.1% of the total votes are in the AAP's favour as of now. Read more
* Unprecedented sweep by Shiv Sena-BJP in Maharashtra, a traditionally pro-Congress state.
* From the votes counted so far 18.89 lakh voters chose the NOTA option.
* Rabri Devi and Meira Kumar trail, Shatrughan Sinha and Misa Bharti ahead in Bihar
* Uma Bharti leads in Jhansi with over 22000
* Maneka Gandhi leading by over 50000 votes in Pilibhit
READ: Gujarat united in loyalty for Narendra Modi
* Narendra Modi of BJP ahead of Arvind Kejriwal of AAP by 35569 votes in Varanasi seat.
Read: Rajnath Singh congratulates Narendra Modi, says BJP's performance 'superb'
* Initial downslide in the UPA fortunes appears worse than he had imagined, but hoped the trends would reverse as counting of votes in the Lok Sabha polls progresses, Jammu and Kashmir Chief Minister Omar Abdullah said. Read more
* Kirron Kher wins in Chandigarh, VK Singh wins in Ghaziabad
* BJP candidate Narendra Modi leads by more than 540000 votes from Vadodara in Gujarat
* BJP's Arun Jaitley traiing Amarinder Singh in Amritsar by 7000 votes now
* BJP clean sweeps all 7 seats in Delhi
* READ: Is Kerala the only exception to the Modi wave?
* Things look rosy for Narendra Modi. Latest poll trends from Uttar Pradesh today placed BJP ahead in 69 out of 80 seats in an unprecedented surge for the saffron party which had won only nine seats in the previous Lok Sabha polls. If the trends continue, BJP will surpass its best ever tally of 57 of 85 seats in the then undivided state of UP in 1998. Read more
* In Uttar Pradesh, BJP President Rajnath Singh leads by 14279 votes in Lucknow, Prof. Rita Bahuguna Joshi of INC trails.
* BJP candidate Ananth Kumar leads, as Nandan Nilekani trails.
* BJP leads in 2 out of 2 constituencies * BJP's Arun Jaitley is trailing by 28,000 votes in Amritsar. * LK Advani wins from Gandhinagar
* BJP-led NDA took early lead in 22 of the 40 Bihar seats as officials counted the votes polled in the Lok Sabha elections. Read more
* BJP leads on 24 seats out of 25 constituencies in Rajasthan.
* BJP-Shivsena leads in 39 seats in Maharashtra, Congress trails embarrassingly with just 5
* Former leader Jaswant Singh trailing in Barmer
* Hiraben, the mother of BJP's prime ministerial candidate Narendra Modi, Friday said her son will serve India as he served Gujarat. Read more
* Former Mumbai police chief Satyapal Singh overthrows RLD leader Ajit Singh's stronghold in Baghpat, UP. "The Modi effect," he had predicted, "will help him break Union Minister Ajit Singh's stronghold over Jats in the area. "What he (Ajit Singh) has done. Baghpat has become the most undeveloped part of NCR. Roads are so bad. There is no industry and hardly any employment opportunity. The area has become so insecure and unsafe...," he said, attacking the RLD chief. Read more
* Varun Gandhi wins from Sultanpur, against Congress' Amita Singh
* All India leads: BJP - 225, Cong- 44, TMC- 20, CPI(M) 10, AIADMK- 22, SP- 9, CPI(M)- 11, TDP- 10, Shivsena - 11, AAP- 3
* Results Lok Sabha Elections 2014: BJP leads in 9 seats in Northeast states
* BJP leads on 22 seats out of 25 constituencies in Rajasthan
* BJP leads on 25 seats out of 26 constituencies in Gujarat
* In Maharashtra, Poonam Mahajan leading in Mumbai North West
* BJP leads in 17 seats in Gujarat, Narendra Modi ahead by 70,000 votes in Vadodara
* In Uttar Pradesh, BJP President Rajnath Singh ahead of INC's Prof. Rita Bahuguna Joshi by 865 votes
* BJP leads from Daman and Diu, Dadar and Nagar Haveli
* BJP leading in Uttar Pradesh in early trends
* BJP's Bappi Lahiri leads in Sreerampur, Bengal.
* Lok Sabha elections 2014: BJP leads in 5 seats, Congress in 4 in Karnataka
* BJP leading in 5 Lok Sabha seats in Assam
* Meenakshi Lekhi leading in New Delhi
* BJP candidates ahead in 11 seats; Sushil Kumar Shinde, Chhagan Bhujbal trail
* LK Advani leads in Gujarat
* In Maharashtra, BJP leads 7, SS 9, NCP 3, INC 2
* In Thiruvananthapuram, BJP leads and Tharoor trails
* AAP's Shazia Ilmi leads in Ghaziabad
* Former BJP leader Jaswant Singh leading in Baramer.
Jaswant Singh rules out returning to BJP, says it'll be betrayal of people
Expelled BJP leader Jaswant Singh has ruled out the possibility of returning to the party fold after the election results are out tomorrow, saying this would be a "betrayal" of the people. Talking to reporters here yesterday, Singh said that he had promised the people of Barmer and Jaisalmer that he would not return to BJP, "so now there is no question of doing it".
* BJP's Nitin Gadkari confident of winning from Nagpur
* NDA lead in 200 seats
* BJP leads in Karnatka by 11
* 255/458 BJP+ nationally
* Varun Gandhi leading in Sultanpur. Read more figures
* BJP leads by 2 seats in Uttarakhand
* Lok Sabha Elections 2014: BJP's Sushma Swaraj leads in Madhya Pradesh
* BJP workers create ruckus in Ghaziabad
* Shiv Sena candidate from Sindhudurg Maharashtra Vinayak Raut leading
* Chirag Paswan leading in Jamau in Bihar, Misa Bharti in Pataliputra. Read more figures
* Nation Lead: 312/ 543
BJP+ 171 (+80),
Congress 64 (-83),
Others 77 (+3)
* BS Yeddyurappa leading in Shimoga, Karnataka
* BJP's Sushma Swaraj leading in Vidisha
* In South, BJP leading in 25 out of 85
* BJP leading in Amethi with Smriti Irani
* BJP surges ahead in North and West India. NDA: 97, UPA: 42
* In Kanpur, BJP's Murli Manohar Joshi is leading over Congress's Sriprakash Jaiswal
* READ: Lok Sabha Elections 2014: BJP takes big lead in Indian vote count
* Dr. Harshvardhan from BJP leading in Chandni Chowk
* BJP 169/304 nationally
* Mayawati opns her tally with 2 seats
* BJP leading by 23/35 in UP
* BJP leading nationally - 150/265
* READ ALSO: Kiran Bedi tweets referring to Narendra Modi as Prime Minister
* Maharashtra BJP leading by 8. Read more figures
* Punjab Shiromani Akali Dal leading by 3, AAP by 2, Congress by 2
* BJP leading in Chattisgarh in by 2 seats
* Congress Shashi Tharoor leading in Thiruvananthapuram
* In Uttar Pradesh, BJP is leading in 13 seats, a gain of 7. Leads for 18/80
* BJP leading in 15 seats out of 18 in Gujarat
* BJP leads by 96 seats out of 185
* BJP's Ananth Kumar leading in Bangalore South
* Modi leads in Vadodara, Varanasi
* Uma Bharti leads in Jhansi
* Mulayam Singh leads in Mainpuri
* BJP leading in North and Central India
* Sonia Gandhi, Rahul Gandhi maintain hold over their seats
Sonia Gandhi leading in Rae Bareily, Rahul Gandhi leading in Amethi @DNA_IamIn @dna #Verdict2014 #myvote2014

— YoshitaSengupta (@YoshitaSengupta) May 16, 2014
* Bihar BJP leading by 2;
* Gujarat BJP leading by 12
* Numbers so far
35 leads at 8.28 am. NDA: 17, UPA: 11, Others: 7 @DNA_IamIn @dna #Verdict2014 Uma Bharti leading in Jhansi, Congress leading in Pilibhit

— YoshitaSengupta (@YoshitaSengupta) May 16, 2014
General Elections numbers are coming in. Follow @ZeeNews for the updated Loksabha Election Results #VerdictOnZee pic.twitter.com/7gDOdiydgC

— Zee News (@ZeeNews) May 16, 2014
BJP got 2 seats in its first elections,BSP got 3.If we perform better then it means we are here to stay at national level-Yogendra Yadav

— ANI (@ANI_news) May 16, 2014
* BJP leading by 16 in Karnataka
* BJP leading Bihar by 1
* BJP+ 15(+6), Congress 8(-4), Others 8 (-2)
* BJP leading in Gujarat one seat, in UP two seats
* From Karnataka Kerala (3/543)- BJP+ - 3 (+1), Congress+ 0 (-1), Others 0
* Amit Shah works towards greater role in Uttar Pradesh
Narendra Modi's man in Uttar Pradesh-Amit Shah has predicted at the Idea Exchange programme of Indian Express, that the BJP would approximately win 50 to 55 seats in Uttar Pradesh. He also places the Mayawati-led BSP in the second position.
* Narendra Modi posters already flooding the streets of Varanasi
* Narendra Modi's Twitter fans eager to see him become Prime Minister
* Maharashtra Shiv Sena, BJP leaders eye cabinet berths in new government
With the BJP-led NDA expecting a big win in the Lok Sabha polls, names of prominent Shiv Sena and BJP leaders from Maharashtra are doing the rounds for probable berths in a Narendra Modi-led cabinet depending on their fate at the hustings.
READ ALSO: Can Narendra Modi resist the old guards in the BJP and have a cabinet of his own choice?
Narendra Modi was expected to break with tradition and form a cabinet comprising top-notch technocrats, somewhat in the manner of the president of the United States. It appears Modi will not be able to implement his radical idea and implement his motto of "less government, more governance" Read more
* Shooting of film on Narendra Modi put on hold, pending election results
The bio-pic on Gujarat chief minister Narendra Modi's life directed by Rupesh Paul and produced by Mitesh Patel is on hold.
* The outcome of the Parliamentary elections may cost Assam chief minister Tarun Gogoi his job. Grim exit poll projections for Congress have emboldened a group of rebel Congress MLAs to intensify their demand for his ouster. Read more
* Narendra Modi on brink of power ahead of India vote count?
Tension that has built up over the five-week election will be released in a few hours as the Election Commission tallies the 537 million votes cast from Tamil Nadu in the south to Jammu and Kashmir in the north
* If BJP's king, Mohan Bhagwat the king-maker
If there is one person who masterminded the grand strategy to propel the BJP to power, it is the "sarsangchalak" of the RSS, Mohan Bhagwat
* What Narendra Modi will do today
The poster boy of BJP will be glued to the television set at his official residence in Gandhinagar and is not likely to seen in public before counting of votes gives clear indication that BJP and NDA is in position to form the next government at the centre. Read more about his schedule, here
READ: BJP's next focus Uttar Pradesh polls: Amit Shah
In UP caste politics held its ground. I think people also got weary of such politics because there is hardly any development, law and order situation has deteriorated, investment is low, there is unemployment, women are unsafe, there is no improvement in agriculture. Amidst this, Narendra Modi's wave and him being the party's prime ministerial candidate created a favorable environment for the BJP. It laid down the foundation and helped in turning votes in our favour. Read more
* At BJP office, fresh coat of paint, 2,500kg ladoos
While counting of votes will begin only at 8 am, upbeat BJP workers have started to celebrate in anticipation of a victory in Lok Sabha polls 2014.
Even as the Lok Sabha election have only just concluded, exit polls have put out their verdicts, mostly in the favour of the Bhartiya Janata Party (BJP). With predictions of a NDA government coming to power at the center led by BJP's prime ministerial candidate Narendra Modi, the party is already started with its celebrations.
Even though actual results are yet to be announced, BJP offices across constituencies are being prepared for jubilation, and fire crackers and sweets have been ordered for in bulk. BJP's national general secretary, Ramlal, held a meeting with the Delhi BJP office-bearers to discuss minute details of the victory celebration. Modi's hoardings will put up across the city, especially on the road leading from the IGI Airport to Ashoka Road via Gujarat Bhawan.
PHOTOS: BJP, Congress preparations ahead of Lok Sabha results
But these celebrations follow an exhaustive campaign that spanned eight months, with over 440 rallies across 5800 locations employing every available resources at the party's disposal. It was the first national election which saw extensive use of social media in campaigning and Narendra Modi appears to have made the most of it. The BJP's prime ministerial candidate used social media, as also technology and traditional methods of moblisation, to create a multi-layered impact and, in may consequential ways, changed the way a national election campaign is run.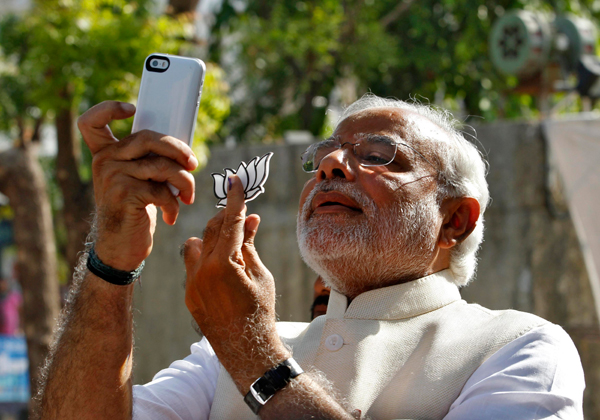 However, BJP's excitement ahead of the result declaration might not be so misplaced after all. Four out of five exit poll surveys suggest the NDA could get a majority without having to look for additional partners. In fact, BJP leader Ravi Shankar Prasad has been quoted saying, "We don't have any plan B or plan C... we are confident that the NDA will cross the 300-mark." He dismissed speculations that the increased meetings between top BJP leaders and the RSS brass had anything to do with the arithmetic of new alliances in the 16th parliament.
But the party is one step ahead and is working on necessary alliance, although it has not yet been made clear if key leaders such as AIADMK's J Jayalalitha will align themselves with BJP. And despite news of some conflict between the two parties, it is believed that Jayalalithaa herself did not contradict him, simply choosing to say that she would wait for the election results to come out before giving a response.
Similarly, the ruling BJD in Odisha also appeared to be sending signals to BJP over its possible outside support to an NDA government at the Centre. While Odisha chief minister and BJD chief Naveen Patnaik remained non-committal on supporting an NDA formation, other party leaders did not rule out the possibility and favoured conditional support to NDA.
ALSO READ: Is Narendra Modi's future safe with Naveen Patnaik and Jayalalithaa?
Even internally, the party has had to reorganise itself ahead of the elections. There has been some of talk over the still undecided fate of prominent BJP leaders such LK Advani and Sushma Swaraj. A series of meeting were held over the last few days. Sushma Swaraj met Nitin Gadkari and Rajnath Singh at her residence so she could receive a respectable porfolio in the tentative Narendra Modi-led government. Similarly, Arun Jaitley, Nitin Gadkari and Rajnath Singh also met LK Advani who is believed to be eyeing the position of the Speaker of the Lok Sabha.
Interestingly, Swaraj was a member of a group led by Advani, within the BJP, that opposed Narendra Modi's selection as the prime ministerial candidate. However, eventually Advani himself announced Modi's anointment as BJP's prime ministerial candidate.
ALSO READ: Will senior BJP leaders Sushma Swaraj and LK Advani be part of Narendra Modi's government at the Centre?
However, a group of four top leaders, including Modi and party chief Rajnath Singh, has emerged as BJP's core group that is expected to take all key decisions. The meeting of the group, which also includes former party chief Nitin Gadkari and Arun Jaitley, took place at Ahmedabad. Party sources said that henceforth the core group would be taking key decisions.
Of course, there is still the question of who will replace Narendra Modi in Gujarat?
The man of the hour himself has been much discussed in the media. Gujarat chief minister who became the face of BJP during the 16th Lok Sabha elections is more than just a party leader. Modi has evolved as a brand.
ALSO READ: Narendra Modi: 16 things to know about the probable Prime Minister
Below: Modi's journey from a pracharak to a prime ministerial candidate