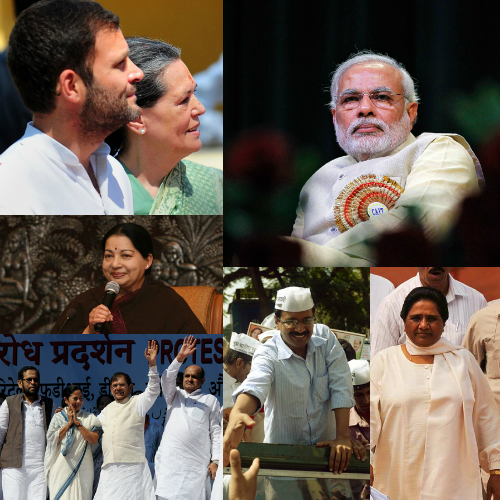 As the ninth phase of Lok Sabha elections draws towards closure and the final counting is set for May 16 2014, Election Commission of India has given its consent for airing Exit polls by various media outlets. While the EC had earlier stated that exit polls would not be allowed as they influence last minute voters, CEC VS Sampath gave EC's consent for Exit polls and thereby over-ruled Election Commissioner Brahma's notification about the safe.
India-—The world's largest democracy has voted to elect a new government at the Centre. The whole elections were spread over 35 days.
Zee news exit polls:
Read: Most North Eastern states favour incumbent parties: CVoters Exit Poll
Watch the entire coverage by Zee News here:
*BJP to win 19 seats in Karnataka while Congress to win 9. JDS to not make a mark in Karnataka and will win zero seats.
Today's Chanakya Exit Poll comes out with astonishing figures, and giving a clear cut idea that there is a Modi wave. BJP to win 291, while NDA will form the government with a whopping 340 seats. Congress will win 57 seats and the UPA will gain just 70 seats.
*BJP to win a whopping 20-24 seats in Gujarat while Congress to gain 0-2 seats
*BJP will win 6 seats in Karnataka, while Congress will 4 seats. AAP is set to win only 3 seats
*Maharashtra: BJP to gain 21 seats while it's allies Shiv Sena and MNS to gain 11 and 0 seats respectively
*Congress to win 9 seats wile AAP and NCP tie at 1 seat each
*BJP to gain 19 seats in Bihar, while RJD to get 10
*JDU will get 5 while Congress to acquire a meagre 4 seats
*Zee News reporting Aaj Tak polls: Congress to win 114 seats across the nation, while the Third front to gain 156 seats.
BJP won't win more than 46 seats in UP. Congress set to win 8 while BSP and SP to gain 13 and 12 seats respectively.
7 seats in Delhi up for grabs out of which BJP gains 6. Congress fails to make a mark with zero seats.
Read: Exit poll analysis- BJP storms ahead with Narendra Modi 'wave'; Congress falls behind



Times Now Exit poll:
*Congress will win 5 seats in Jammu and Kashmir and BJP will win 1 seat
*In Punjab, BJP and SAD alliance will win 7 seats while Congress gets a total of 6 seats
*BJP's total tally is 218 seats
*Congress' tally is 105 seats but it could go up to 120
*BJP-led NDA will win the election with Modi as PM
*NDA wins 249 seats, UPA 148 seats in total
*In Delhi, BJP will win 6 seats and Congress 1 seat
*AAP will not win a single seat
*Congress will spring a surprise in Rajasthan by getting 14 seats, BJP will get just 10 seats
*BJP will get 22 out of 26 seats in Gujarat, Congress will get 4 seats
*In Kerala, Congress-led UDF will win 16 seats, LDF will win 4 seatsThe absence of VS Achutanandan may hurt them
Kerala has 20 seats- Congress is very strong in Kerala, but this is a surprising
*According to Times Now, TRS will gain 8-10 seats in Telangana, while Congress will acquire just 3 seats. BJP-TDP alliance is set to win 2 seats.
*According to Times Now, Congress will fail to make a mark in Seemandhra and won't win any seat. BJP is set for a win with 15-20 seats while YSR Congress to win 5-8 seats.
*AAP is projected to get 1.68% vote share in Karnataka
*Tamil Nadu: Out of 39 seats, Congress gets 1, BJP 0, AIADMK 31 and DMK 7
Highlights for Seemandhra:
*In Southern states such as Karnataka and Kerala: Congress is ahead of BJP
*Congress doing very well in Karnataka on vote share but not seat-wise
*36% vote share for Congress in Karnataka
*TDP member says the Seemandhra municipal polls show that TDP-BJP is very strong
*The predicts 22 seats for TDP-BJP in Seemandhra and 5 seats in Telangana for BJP-TDP
*In Seemandhra, BJP and TDP will combine and emerge victorious with 17 seats
*In Seemandhra, BJP is stated to win 17 seats while Congress will lose with 0 seats. YSRCP is set to win 8 seats.
*If TMC and Left vote share is equal, then BJP has cut into TMC votes say panelists
*TMC 38% of the vote in Bengal, Left parties will get 37%
*BJP member Jayant Sinha disagrees, says BJP will win 12-14 seats in Jharkhand
*Pawan Verma, adviser to Bihar CM Nitish Kumar disagrees with 28 seats for BJP, says it will get much less
*Panelists trash Bihar figures, say Lalu (RJD) cannot get 0 seats. RJD is projected to get 20% vote share in Bihar but no seats
*West Bengal has 42 seats. While Congress will win 5 seats, BJP will win 2 seats. TMC will win 20 and form the majority while Left parties will win a measly 5 seats.
*BJD's Naveen Patnaik will play a big role in the Lok Sabha elections and in forming the next government. *39% vote share for BJD and BJP 23% in Odisha
*Odisha - Congress will win 5,seats, BJP will win 1 seat and BJD 15 will form the majority in the state.
Congress gets 27% vote share in Odisha.
*Assam has 14 seats in Lok Sabha elections: Congress will win 5 seats while BJP will win 8 seats according to Times Now survey
*Manipur has 2 seats in Lok Sabha elections: BJP has 0 seats while Congress will win 2 seats according to their survey.
*The last and eighth phase of polling took place on Monday in which voting for 41 seats took place.
*Assam CM Tarun Gogoi disagrees with the poll and says Congress will get 7-8 seats in the Lok Sabha elections.
Nagaland has two seats and according to the survey, local parties such as NTF will win 1 seat (BJP ally) while Congress will win 1 seat.
According to the survey, BJP will gain big in North East, especially Assam.
*Mizoram- Congress 1, BJP-0
*Sikkim- Others 1, BJP 0, Congress 0
*Arunachal: BJP 1, Congress 1
C-Voter survey Exit polls:
*Mamata Banerjee's Trinamool Congress is expected to show a rise this election. The party is expected to win 27 seats out of the 42 seats from West Bengal. Read more
YSR Congress will bag 14 out of the 42 seats in Andhra Pradesh in its maiden Lok Sabha elections in Andhra Pradesh Read more
Delhi voters seem to be clearly be influenced by the Modi wave, suggests exit polls. Narendra Modi's BJP will win all seats in Delhi, predicts CVoters Exit Polls. Read more
The BJP in Gujarat is predicted to acquire 22 seats, as opposed to Congress which is predicted to gain only four seats. Read more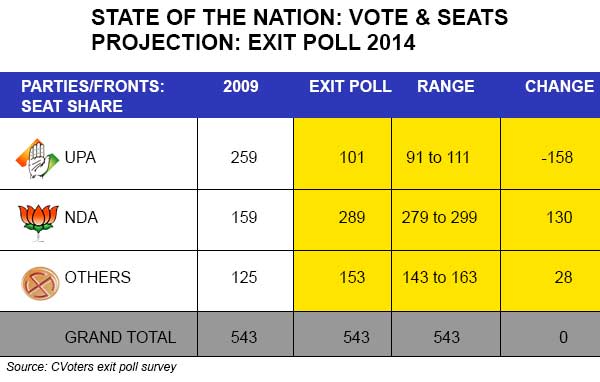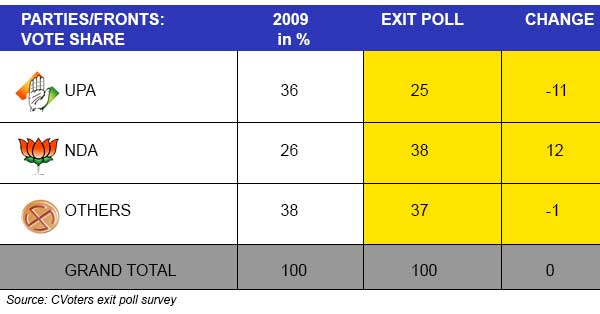 AAJ Tak exit polls:
Aaj Tak gives BJP 5 to 7 seats while AAP could win upto 2 seats according to Aaj Tak in Delhi.
CNN-IBN Exit polls:
Highlights of Madhya Pradesh:
*The BJP to clearly win the state of Madhya Pradesh by having a vote share of 50% which translates to about 24-28 seats
*The Congress has fallen to 34% from 40% in 2009. It may win only 1-5 seats in Madhya Pradesh
Highlights of Rajasthan:
*BJP jumps to a whooping 53% from 47% in 2009. The BJP might secure as much as 21-25 seats in Rajasthan which sends a total of 26 seats to Lok Sabha
*Congress is fallen to 35% from 43% in 2009. The Congress again finishes last and might secure just 1-5 seats
*The BJP might have a clear majority by winning about 53% of the voter share which translates to about 21-25 seats
*The congress has fallen to 35% from 43% in 2009
*This gives the Congress only 1-5 seats in the BJP state
Highlights for Maharashtra:
*BJP up to about 44% vote share from 38% in 2009
*BJP-SS to secure about 33-37 seats this year
*Congress-NCP alliance down to 34% vote share from 39% in 2009
BIHAR: The BJP could emerge as the masters of Uttar Pradesh
JDU finishes last with 15% vote share down by 9% from 2009 while in Bihar, Congress which will secure 29% which translates to about 11-15 seats in this state
Highlights for Uttar Pradesh:
*BJP to be the winners. BJP to get a 40% share which translates to 45-53 seats
*The Congress is down to 10% vote share from 22% in 2009. This translates into only 3-5 seats for the Congress
*The ruling SP to have about 24% vote share which translates to 13-17 seats for this party
*Mayawati led BSP down to 21% from 27% in 2009. It translates to about 10-14 seats for the BSP in Uttar Pradesh
*The congress to win about 24% vote share which translates to 1-3 seats
*The BJP to win about 29% vote share which makes about 3-7 seats
Jharkhand Highlights:
*The BJP jumps to a whooping 44% vote share from 27% in 2009
*The BJP is expected to win 10-11 seats in this state
*The Congress which is in alliance to fall to 21% share from 30% in 2009
*The Jharkhand Vikas Morcha to remain stable at 11%
*The vote swings towards BJP in the North
Highlights for Odisha:
*The congress will win about 24% vote share which translates to 1-3 seats the BJP to win about 29% vote share which makes about 3-7 seats
*The BJD to have a vote share of 37% same as 2009. This translates to 12-16 seats for this party
Highlights for Karnataka:
*The BJP is down to 38% vote share from 42% in 2009. This translates to about 10-14 seats for the BJP
*There is an advantage for the Congress in this state. The vote share jumps to 43% this year from a 38% in 2009. This translates to about 12-16 seats in 2014
*The JDS finishes last at 14% vote share which translates to 1-3 seats
*The Congress seems to be ahead of BJP in this state
Highlights for Kerala:
*The Congress led UDF to continue to retain this seat
*The Congress is projected to get 45% vote share which translates to 11-14 seats
*The LDF is down to 40% vote share from 42% in 2009. This translates to 6-9 seats in 2014
*The Left is falling back due to internal differences in the party
*Congress to lead in this state
Highlights for Telangana:
*The TRS might turn out to be victorious by winning about 37% of the vote share. This translates to 8-12 seats for the TRS.
*The Congress to get just 3-5 seats in Telangana.
*BJP-TDP alliance is predicted to win only 2-4 seats.
*The regional party to have a better chance than national parties.
*TRS set to edge out Congress in Telangana
*The AIADMK to jump to a 39% vote share which translates to about 22-28 seats. In 2009, they won 9 seats
*DMK to get a seat share between 7-11 & the BJP+ about 4-6 seats. In 2009, the DMK won 19 seats
*The Congress is at deep fall of 0 seats from 8 seats in 2009
Read: Exit Poll predicts BJP's victory from Haryana, Punjab and Himachal Pradesh
*AAP might do better in Punjab than in Delhi
BJP to remain stable at a 51% vote share and it had 50% in 2009
Congress to fall to 37% from a 46% in 2009
Trends for Haryana:
*The BJP-HJC is projected to win about 38% of the vote share which is a jump from 22% in 2009.
*Congress to fall to 24% vote share in 2014 from a 42% in 2009
*Indian National Lok Dal to jump from 16% in 2009 to 20% in 2014
*AAP will be at a meager 4% vote share
According to Exit polls, trends in Punjab are as follows;
Congress about 29% share which translates to 3-5 seats
BJP-SAD about 40% share which translates to 6-9 seats.
AAP at a whooping 21% which goes to about 1-3 seats in Punjab
An average of 66% voters exercised their franchise in the last eight phases.
Overall, 9,667 candidates fought for the Lok Sabha seats in a poll that showed a high voter turnout among the 814 million electorate.
How the 'Satta' bazaar voted:
Narendra Modi: 0.40 paise
Rahul Gandhi-Rs 8
Mamata banerjee-Rs 5.50
Jayalalithaa: Rs 6
*The lowest rupee value means higher support sentiment. According to this, all votes are in favour of BJP's Narendra Modi.
The BJP in Gujarat is predicted to acquire 22 seats, as opposed to Congress which is predicted to gain only four seats. Read more
C Voter's Exit Poll Survey predicts that NDA will have 289 seats, while the UPA is expected to win 101 seats. As per statistics, NDA will have 38% of vote share and the Congress 25%. The rest of the parties will together claim 37% of the vote share. Read more
Jayalalitha's AIADMK and Mamata Banerjee's Trinamool Congress will land up winning 27 Lok Sabha seats each in the recently concluded Lok Sabha elections, according C Voter Exit Poll Survey. Read more
Exit polls released following the conclusion of the last phase of the elections, show an interesting trend among major coalitions contending to form a government at the Lok Sabha. NDA likely to secure 289 seats, predicts CVoters exit polls. If the numbers are to be believed, Congress' vote share would go down by 8 % while BJP is expected to see a jump of 11% gathering 30% of the votes. Read more
Exit polls suggest that the All India Anna Dravida Munnetra Kazhagam (AIADMK) will win 27 seats in Tamil Nadu, while Dravida Munnetra Kazhagam (DMK) will experience a huge setback with only six seats. Read more
How markets are faring on pre-election rally?
The BSE benchmark index Sensex and NSE barometer Nifty today surged to their second straight record closing high on continued fund inflows on hopes of a stable government. The 30-share Sensex opened on a strong footing and rose to new intra-day high of 23,572.88 points.
It settled for the day at 23,551.00, a new record at closing, by gaining 556.77 points or 2.42%. Its previous record closing high was 22,994.23 reached on Friday. Of the 30 Sensex scrips, 25 led by ITC, HDFC Bank, RIL and L&T rose, while just five ended lower. Banking, capital goods, oil and gas, auto, IT and auto shares were in demand, while pharma sector counters were under some pressure. The NSE Nifty, comprising 50 shares, zoomed by a whopping 155.45 points, or 2.27%, to close at all-time high of 7,014.25.
The broader index touched intra-trade record high of 7,020.05 points, surpassing previous record of 6,871.35 on Friday. "Markets were on a fire as optimism increased in favour of BJP winning majority in Lok Sabha elections 2014," said Nidhi Saraswat, Senior Research Analyst, Bonanza Portfolio. Foreign institutional investors (FIIs) bought shares worth a net Rs 1,268.78 crore on Friday as per provisional data from the stock exchanges. Market experts said positive global cues and overall optimism also boosted the buying sentiment, lifting the indices to to their lifetime high levels.
Similarly, the rupee surged past the 60 level against the dollar and was quoting at 59.73 in late afternoon trade. The domestic currency had closed at 60.04 on Friday. "Gains in benchmark indices were also supported by strong buying by retail investors in small and mid-cap stocks", said Rajiv Malik, a Delhi-based stock broker. The BSE Oil and Gas index rose 3.07%, the best gain among sectoral indices. The Power sector index rose by 2.98% and Auto index by 2.88%. Midcap index ended 2.42% higher and the small-cap barometer by 0.51% at 7,632.29.
Here's a run-down of what exit polls are:
*An election exit poll is a poll of voters taken immediately after they have exited the polling stations. Unlike an opinion poll, which asks whom the voter plans to vote for or some similar formulation, an exit poll asks whom the voter actually voted for.
*A similar poll conducted before actual voters have voted is called an entrance poll. Pollsters – usually private companies working for newspapers or broadcasters – conduct exit polls to gain an early indication as to how an election has turned out, as in many elections the actual result may take hours or even days to count.
*There was a widespread controversy during indian 2014 General Assembly elections when election commission of India barred media organisation to display exit pole result until the day of actual vote counting that is 16th may has come.
*This followed a strong protest from media that there was no meaning of showing exit poll result on same day of acual poll result. This caused [ECI] to withdraw its statement saying that it was a slip of tongue and that the exit polls can be shown at 6:30PM on 12th may when the last vote of country is cast.
Exit Polls trends for 2014:
*The grand old party and its defeat: Congress has been attacking Narendra Modi and BJP but its campaign has been weak. While BJP's strategy to nationalise the entire elections and seek votes for Modi has worked wonders for the party, Congress' leader Rahul Gandhi seeking votes hasn't really made an impact. what the party could do is accept its defeat with a minimal number of seats and form a strong opposition.
Even Congress' allies such as National Conference and NCP did not support the party's last resort to attack Narendra Modi over the 'Snoopgate scandal' when everything else failed.
*Does Narendra Modi's wave really exist: Though some may disagree, these elections have marked Narendra Modi's meteoric rise from state-level politics to national level politics. Eveything from striking a balance on grounds of development and removal of anti-incumbency factors to subtle speeches with Hindu nationalist agenda's have been used extensively. While Congress tried to copy the same method, it failed miserably. The pattern noticed on ground is that people want to get rid of anti-incumbent governance. Though Aam Aadmi Party's rise was meteoric in the assembly elections and AAP leader Arvind Kejriwal went onto defeat Congress' Sheila Dixit and become the Chief Minister, his party fortunes fell quickly after he resigned from the post.
*Who forms the government at the Centre?: Narendra Modi had set the poll pitch with his rally in Rewari, Haryana about how the next government will be. BJP is targetting a whooping 300+ seats and the party campaign is to win 272+ seats and form the government. If this well-crafted strategy succeeds and the party wins, Modi will be at the helm of affairs and deciding the future of the nation. Thisd government will be highly individualistic with concentrated powers and will try to set a balance for development and growth. What Narendra Modi will do to appease Muslim and other community voters is yet to be seen but the entire world is watching the show in the largest democracy.
*Rise of people-centric parties and their fall: The Aam Aadmi Party which was formed on the agenda of 'pro-people politics', and corruption-free governance held promises and rattled the incumbent governance. But, after a failed performance, AAP was not able to make an impact nationally. With Arvind Kejriwal pitting himself against BJP's Prime Ministerial candidate Narendra Modi, all eyes are set to see this duel. Earlier, Kejriwal had used the same strategy against Delhi Ex-CM Sheila Dixit.
*Local leaders making an impact nationally: Time is ripe for state-based parties to exert their signifance in these polls as big players are tying up with local leaders and parties. While BJP and its affiliation rSS has strong cadres who can take the message forward and help the saffron party come into power, the party has tied up with Apna Dal to secure votes.
While Jayalalithaa has kept her options open to join BJP, Mamata Banerjee has attacked the party and called its leader as 'Donkey'. Experts suggest that this is a ploy by TMC and BJP to polarise votes and a future alliance between the two possible.