If exit polls are any indicator, BJP's Narendra Modi is expected to take charge of the new government.Even though it seems like he has been heading the BJP ship single handedly, BJP's prime ministerial candidate Narendra Modi is in fact assisted by a core team that managed his campaign trail and social media strategy.
And while there may be a campaign fatigue set in following the 440 exhaustive rallies, covering more than 3 lakh kilometers, it is intriguing to take a look at the squad that has been working behind the curtains.
Former Home minister for Gujarat and Modi's right hand and political chief of staff, Amit Shah was in charge of the the strategic state of Uttar Pradesh which is considered to be the ticket to the Lok Sabha. Amit Shah was the chief co-ordinator for this state, right from deciding who contests from where and which locations campaigns are to be held. Inspite of being Modi's go-to man, Amit Shah might not find a place in the cabinet and is said to be concentrating on Uttar Pradesh's assembly polls which will be coming up soon.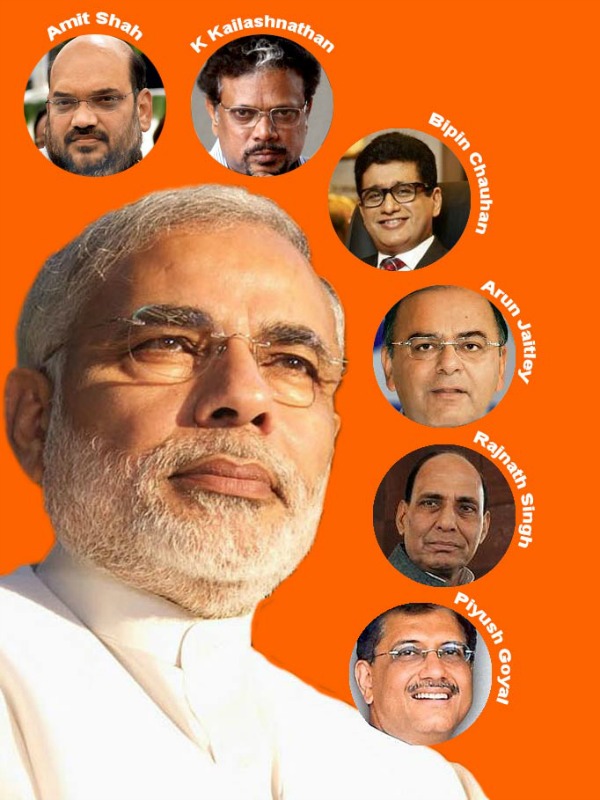 Bipin Chauhan, Narendra Modi's personal stylist is the man behind the crisp half sleeve kurtas which is now called the "Modi Kurta". It is also said that Modi hardly ever likes repeating his clothes and being a fan of yesteryear star Rajesh Khanna, he tries to imitate the actor's dressing style by buttoning up his kurta right to his neck.
K Kailashnathan, Modi's principal secretary is responsible for his political and public outreach and also oversees the working of the other teams. Piyush Goyal, national treasurer of the BJP is a close aid of the Gujarat chief minister and also advises him on various issues ranging from social media to policy.
The large social media campaign is headed by Hiren Joshi, who is the mastermind behind the 272+ campaign. He is also responsible for all of Modi's social media accounts.
Amid all the speculation regarding who will make it to Modi's cabinet, if he does become prime minister, Arun Jaitley might possibly be in charge of the finance ministry. Jaitley who is contesting the election from Amritsar has been a major face of the party, even going so far as to sitting on a dharna when the Election Commission denied Narendra Modi permission to hold a rally in Varanasi.
India has won! भारत की विजय। अच्छे दिन आने वाले हैं।

— Narendra Modi (@narendramodi) May 16, 2014
India has won! भारत की विजय। अच्छे दिन आने वाले हैं।

— Narendra Modi (@narendramodi) May 16, 2014
BJP Party President Rajanth Singh, the man who boosted the Modi wave, initially said that he would not want to be a part of the cabinet. But recent talks among the party leaders suggest that he might be incharge of an important ministry and the party reigns would be taken over by former party president, Nitin Gadkari.
A meeting of the senior leaders—Rajnath Singh, Arun Jaitley, Nitin Gadkari with Narendra Modi yesterday sparked off rumours about possible members of the future cabinet, if the BJP manages to attain the magic numbers. Even though these decisions were initially made by the parliamentary board of the party, consisting of leaders like LK Advani, Murli Manohar Joshi, M Venkaiah Naidu and Ananth Kumar, this has now been replaced by the "core team".
Sources say that this change has upset leaders like Sushma Swaraj. "As far as the roles of veteran leaders are concerned, I will call a party meeting to which they will be invited. After thorough discussions with all big leaders, we will decide what role will be played by which person," party president Rajnath Singh said before meeting Narendra Modi in Ahmedabad.