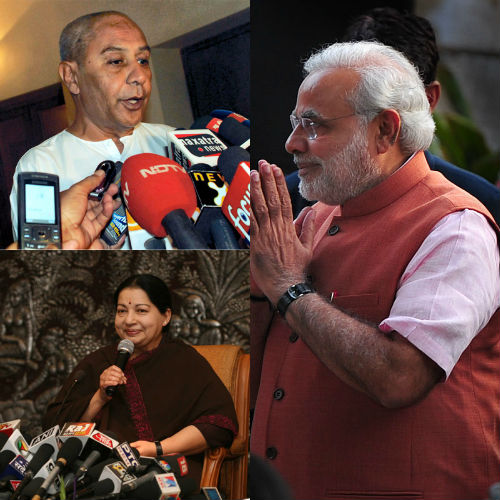 Speculations about Narendra Modi becoming the next Prime Minister of India are rife with Exit polls predicting a clear victory for BJP. The last time NDA government came into power, AIADMK leader Jayalalithaa had put the government in a fix by walking out of the coalition and derailing the government at the Centre.
But in a rather turn-around of sorts, Jayalalithaa has kept all her options open and had a private meeting with her party leaders over possibility of a BJP led NDA government at the Centre. This is rather intriguing as 'Amma' has been lashing out at BJP's Prime Ministerial candidate Narendra Modi over 'Gujarat model of development' claims. It can also be noted that Jayalalithaa was eyeing the top job of PM with a help of a third-front in case both BJP and Congress failed to garner enough numbers to form the government.
According to sources, Amma has kept two options open for AIADMK—Either join BJP led NDA alliance or third front on the basis of final results that will be declared on Friday.
Biju Janta Dal leader Naveen Patnaik has not yet confirmed whether his party would join an alliance with BJP but speculations are rife that the party may do so and help BJP form government.
BJD was NDA partner but had parted ways ahead of Lok Sabha elections 2004.
Speaking to reporters, BJD chief and Odisha Chief Minister Naveen Patnaik had said, "We are not in talks with NDA, have not decided to support NDA as we have not discussed it yet." A top BJD leader had hinted that his party may join back the NDA camp to help in government formation at the Centre.
BJD leader Pravati Tripathi had said that the Naveen Patnaik-led party may give conditional support to the NDA at the Centre.
"Keeping in view the opinion of the whole country and the state's interest, there should be no problem in providing conditional support to NDA to form government at the Centre," he had said.
So, with both Jayalalithaa and Naveen Patnaik playing their cards safely and keeping all the options open, Narendra Modi needs to reasses their support to the NDA led coalition. While 'Amma' comes with a strong support base and Naveen Patnaik's Odisha will help Modi strengthen his alliances, he also needs to make sure that this alliance does not fall through. If the alliances fall, a Deja-Vu of what happened to Atal Bihari Vajpayee will happen again and the government may fall even before completing its tenure.